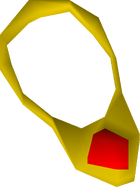 The 'perfect' necklace is made during the quest Family Crest. It is made from a 'perfect' gold bar and a ruby. It is given to Avan along with a 'perfect' ring to complete a part of the Family Crest.
It can be worn, but it has the same appearance as an ordinary ruby necklace and gives no bonuses.
Trivia
The P in 'perfect' necklace is not capitalised because all items in RuneScape use ucfirst capitalisation, wherein the first letter of a string is capitalised, but the rest is not.
Crafted

 Gold •  Opal •  Sapphire •  Jade •  Emerald •  Topaz •  Ruby •  Diamond  Dragonstone •  Onyx •  Zenyte

Enchanted

 Dodgy •  Games •  Passage •  Binding •  Faith •  Digsite •  Phoenix •  Skills •  Berserker •  Anguish (or)

Other

 Brass •  Clean •  Occult (or) •  'perfect' •  Silver •  Stolen family heirloom
Community content is available under
CC-BY-SA
unless otherwise noted.