The 2017 Midsummer event is an event that started on 30 June 2017 that lasted for two weeks. Players had to assist Hotpheex in Taverley, helping him protect nature from evil corrupting spirits.
Walkthrough
Speak to Hotpheex in the druidic circle in Taverley. He will be attempting to perform the annual summer ritual to Guthix as a thanks for creating Gielinor, as well as keeping it in balance, as Guthix requested.
However, the druids are missing something, so Hotpheex will refer you to a dwarf, Thordur, who is familiar with the ritual. Because he cannot leave the altar, you must visit him on his behalf. He will give you a disk of returning, and teleport you to the Dwarven Mines. Use the Activate option on the disk, NOT the Blackout option.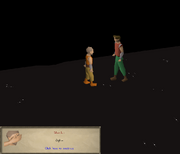 Faint noise
(
link
)
The faint noise that can be heard when the riddle appears in the player's chatbox.
Once you are in the blackhole, speak to Thordur, who will be frustrated because there was no offering given during the ritual, and that this occurs every year. He asks you to listen to the faint noise, and that it is the riddle to tell the player what is necessary for the ritual to work. Use the Activate option on the disk of returning to leave the blackhole, you will find yourself in the Dwarven Mines of Falador.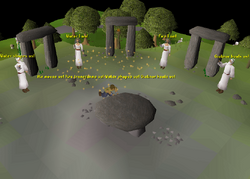 Make your way back to Hotpheex with the answer to the riddle in your inventory, and use the item on the altar. Hotpheex will thank you for your efforts and give you a Half full wine jug, and that players should repeat the ritual tomorrow, and that doing so three times will earn a special reward.
After each day, players will have to solve a new riddle by speaking to Hotpheex again, and having him teleport you to Thordur again. Doing so will get another half full wine jug and another disk of returning each day. Players who repeat the ritual three times will receive a hand fan (and for those players who do not already have them, a hornwood helm, mask of balance and druidic wreath).
Riddles
| Date | Riddle | Answer |
| --- | --- | --- |
| 14 July | A famous pirate missing his voice has a semi-precious stone. | Black bead |
| 13 July | Bellow to find the right note we hear fish | Raw tuna |
| 12 July | This tree can blow over and be chopped up. | Willow logs |
| 11 July | I would drink this, but it sounds like it would taste unpleasant | Vial of water |
| 10 July | Undermining we hear flames in a circle we can recoil. | Sapphire ring |
| 9 July | We hear it is part of a part to eat. | Incomplete pizza |
| 8 July | Pwned with a little maul. | Hammer |
| 7 July | Search for a backward door missing a hole and find some sardines. | Fishing rod |
| 6 July | Shout in pain before death to recolour. | Yellow dye |
| 5 July | Imprisoned for holding water. | Jug |
| 4 July | One in midday about to make you cry. | Onion |
| 3 July | Money! Money! So you can eat. | Bread dough |
| 2 July | Eating the post we hear while wearing this. | Goblin mail |
| 1 July | Pale pipe about a dessert. | Apple pie |
| 30 June | Wearing the real about granite super poisoned love. | Leather gloves |
Rewards
Birthday

Easter

April Fools'

Midsummer

Hallowe'en

Christmas

Other events
Community content is available under
CC-BY-SA
unless otherwise noted.