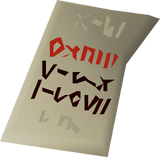 A scribbled note is an item obtained while searching the table in Ungadulu's cave during Legends' Quest.
Transcript
"
I fear that the spirit of an ancient one resides within me and uses me ... I am too weak to cast the curse myself and fight the beast within.

Day 3 ... my last hope is that someone will read this and aid me ... I am undone and I fear....

"
NPCs

Legends guard • Radimus Erkle • Jungle forester • Gujuo • Ungadulu

Enemies

Nezikchened • Ranalph Devere • Irvig Senay • San Tojalon • Viyeldi

Items

 Bull roarer •  Sketch •  Blessed gold bowl •  Holy water •  Binding book •  Yommi tree seeds •  Bravery potion •  Dark dagger •  Glowing dagger •  Holy force

Notes

 Radimus notes •  Scrawled note •  A scribbled note •  Scrumpled note

Crystals

Related
Community content is available under
CC-BY-SA
unless otherwise noted.