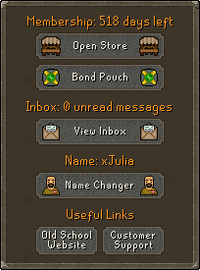 The account management tab shows information related to the player's account:
Amount of membership left, if any, as well as providing a link to Jagex's store to purchase membership and a button to open the Bond Pouch
Amount of unread messages in the Message Centre and a link to the inbox
The account's display name and a button to open the in-game name changer
It also has a link to Old School RuneScape homepage, and customer support.
The account management tab was added to the mobile client in the update of 23 August 2018, and to the desktop client in the update of 27 September 2018. It took Ignore List's place, which was merged with Friends List.
Control panel

| | |
| --- | --- |
| Top |  Combat Options •  Stats •  Quest List •  Achievement Diary •  Minigame Group Finder •  Kourend Favour •  Inventory •  Worn equipment (Equipment Stats) (Items Kept on Death) (Guide Prices) •  Prayer screen •  Spellbook |
| Bottom |  Clan Chat •  Friends List (Ignore List)  Account Management •  Logout (World switching) •  Options •  Emotes •  Music |

Minimap

Compass • Hitpoints • Quick prayers • Run energy • Special attack • World map

Other

Chat Interface • Choose Option • Game controls • Main Menu • Trading interface
Community content is available under
CC-BY-SA
unless otherwise noted.