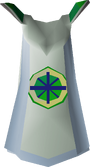 The achievement diary cape can be obtained by players who have completed all Achievement Diaries. It is obtained along with the Achievement diary hood, and can be bought from Twiggy O'Korn in Draynor Village for 99,000 coins. It should be noted that this is one of the hardest items in OldSchool RuneScape to obtain due to its high requirements.
It becomes trimmed after completion of all quests, as does the quest cape after completing all the diaries. As of an update on 6 May 2016, players can now trim and untrim their achievement diary cape at will. However, if a new quest comes out, the cape will automatically untrim itself, and cannot be equipped, operated, or trimmed until the player completes the new quest. This is the only cape of achievement that has a +4 prayer bonus whether it is trimmed or not.
Teleports
The cape possesses ten teleport charges per day to any Achievement Diary master, including Twiggy O'Korn. Below is the list of NPCs players can teleport to (keyboard shortcuts included in name):
Capes

 Agility (Hood) •  Attack (Hood) •  Hitpoints (Hood) •  Construction (Hood) •  Cooking (Hood) •  Crafting (Hood) •  Defence (Hood) •  Farming (Hood) •  Firemaking (Hood) •  Fishing (Hood) •  Fletching (Hood) •  Herblore (Hood) •  Hunter (Hood) •  Magic (Hood) •  Mining (Hood) •  Prayer (Hood) •  Ranging (Hood) •  Runecrafting (Hood) •  Slayer (Hood) •  Smithing (Hood) •  Strength (Hood) •  Thieving (Hood) •  Woodcutting (Hood) •  Quest point (Hood) •  Achievement diary (Hood) •  Music (Hood) •  Max (Hood)

Cape sellers

 Cap'n Izzy No-Beard •  Ajjat •  Surgeon General Tafani •  Estate agent •  Head chef •  Master Crafter •  Harlan •  Martin the Master Gardener •  Ignatius Vulcan •  Master fisher •  Hickton •  Kaqemeex •  Hunting expert •  Wizard Sinina •  Gadrin •  Brother Jered •  Armour salesman •  Aubury •  Duradel •  Thurgo •  Sloane •  Martin Thwait •  Woodsman tutor •  Wise Old Man •  Twiggy O'Korn •  Olaf the Bard •  Mac

Emote

Skillcape
Community content is available under
CC-BY-SA
unless otherwise noted.