Raise a Floppa - The Loop
Play Sound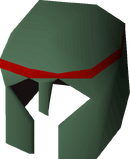 An adamant med helm is the third best medium helmet available. It requires a Defence level of 30 to wear.
Though the helmet provides a smaller defence bonus than that of an adamant full helm, it has a lower penalty to Magic attack and defence. This means it is potentially more useful than the full helm to players who are training the Magic skill.
It can be bought from the Helmet Shop in the Barbarian Village for 1920, smithed from an adamantite bar with a Smithing level of 73, or received as a drop from various monsters.
Dropping Monsters
Standard

| | |
| --- | --- |
| Medium helmets |  Bronze •  Iron •  Steel •  Black •  White •  Mithril •  Adamant •  Rune •  Dragon |
| Full helmets |  Bronze •  Iron •  Steel •  Black •  White (Initiate • Proselyte) •  Mithril •  Adamant •  Rune •  Dragon |

Treasure Trails

| | |
| --- | --- |
| Trimmed | |
| Gold-trimmed |  Bronze •  Iron •  Steel •  Black •  Mithril •  Adamant •  Rune •  Gilded med •  Gilded full •  Dragon |
| Black heraldic | |
| Adamant heraldic | |
| Rune heraldic | |
| Rune god | |

Other

| | |
| --- | --- |
| Slayer helmets |  Regular (imbued) •  Black (imbued) •  Green (imbued) •  Red (imbued) •  Purple (imbued) •  Turquoise (imbued) |
| Fremennik helmets |  Regular •  Warrior •  Berserker •  Rock-shell •  Neitiznot |
| Shayzien helmets | |
| Barrows helmets | |
| Serpentine helmets | |
| Miscellaneous |  Khazard •  Spiny •  Shaman mask •  Black mask •  Ram skull •  Tyras •  Fighter hat •  Void melee •  Granite •  Dwarven •  Obsidian •  3rd age •  Statius's |
Melee weapons

 Dagger •  Axe •  Mace •  Claws •  Sword •  Longsword •  Scimitar •  Spear •  Warhammer •  Battleaxe •  2h sword •  Halberd •  Hasta •  Pickaxe •  Cane

Ranged weapons/ammo

 Crossbow •  Bolts •  Arrows •  Brutal arrows •  Darts •  Javelins •  Thrownaxe •  Throwing knife

Armour

 Med helm •  Full helm (t) (g) (h) •  Square shield •  Kiteshield (t) (g) (h) •  Chainbody •  Platebody (t) (g) •  Plateskirt (t) (g) •  Platelegs (t) (g) •  Boots •  Gloves •  Defender

Other

 Arrowtips •  Javelin heads •  Broken axe •  Broken pickaxe •  Nails •  Dart tip