Agrith-Naar is a level 100 Greater demon who is the main antagonist of the Shadow of the Storm quest. He is summoned and then destroyed using Silverlight, which results in the blade transforming into Darklight as a result of absorbing his blood.
He reappears as Agrith-Na-Na during the final battle of the Recipe for Disaster quest.
He can be fought in the Nightmare Zone after the quest is complete. Although he is a Greater demon, killing Agrith-Naar will not grant any Slayer experience in the Nightmare Zone.
Strategy
Warning: This fight occurs in an instanced area. This means you cannot recover any unprotected items should you die. Consider bringing an emergency teleport.
Agrith-Naar uses melee up close and fire blast at a distance. He is able to detect protection prayers and will avoid using attacks the player is praying against. He is also capable of teleporting the player within melee distance of him should the latter attempt to run or attack from a distance.
He can only be defeated with the use of Silverlight. Only the last hit must be dealt using Silverlight; normal weapons and spells can be used to weaken him. However, using Silverlight for the entire fight is still a good choice due to its passive damage boost against demonic creatures. The player must remain in melee distance when finishing him off using Silverlight.
If the requirements to finish him off are met, poison damage will also kill Agrith-Naar as if the last hit had been made using Silverlight.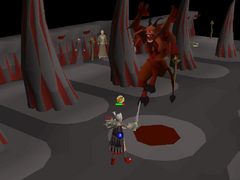 NPCs

Father Reen • Father Badden • Evil Dave • Denath • Jennifer • Matthew • Eric • Tanya • Clay golem • Patrick • Josef

Enemies

Agrith Naar

Items

 Black mushroom •  Black mushroom ink •  Black desert shirt •  Black desert robe •  Silverlight (dyed) •  Demonic sigil mould •  Demonic sigil •  Demonic tome •  Strange implement

Rewards

 Darklight

Music

Related
Bosses

Agrith-Naar • Agrith-Na-Na • Arrg • Barrelchest • Black demon • Black Knight Titan • Bouncer • Chronozon • Corrupt Lizardman • Corsair Traitor • Count Draynor • Culinaromancer • Dad • Dagannoth mother • Damis • Dessourt • Dessous • Elvarg • The Everlasting • Evil Chicken • Fareed • Flambeed • Gelatinnoth Mother • Giant Roc • Giant scarab • Glod • Ice Troll King • The Inadequacy • Jungle Demon • Kamil • Karamel • The Kendal • Khazard warlord • King Roald • Me • Moss giant • Nazastarool • Nezikchened • Sand Snake • Skeleton Hellhound • Slagilith • Tanglefoot • Tree spirit • Treus Dayth • The Untouchable • Witch's experiment

Rewards

| | |
| --- | --- |
| Resources |  Snape grass •  Red spiders' eggs •  Flax •  Bucket of sand •  Potato cactus •  Seaweed •  Dragon scale dust •  Compost potion •  Herb box •  Vial of water •  Scroll of redirection |
| Upgrades |  Black mask (imbued) •  Slayer helmet (imbued) •  Salve amulet (imbued) •  Salve amulet (e) (imbued) •  Ring of suffering (imbued) •  Berserker ring (imbued) •  Warrior ring (imbued) •  Archers ring (imbued) •  Seers ring (imbued) •  Tyrannical ring (imbued) •  Treasonous ring (imbued) •  Ring of the gods (imbued) •  Granite ring (imbued) •  Crystal bow •  Crystal shield •  Crystal halberd |
| Benefits | |
Community content is available under
CC-BY-SA
unless otherwise noted.