GTA: The Criminal Enterprises - The Loop
Play Sound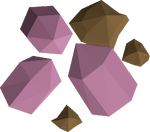 Amethyst is a type of mineral mined from amethyst crystals. Mining it requires the player to have a Mining level of 92, and grants 240 Mining experience.
It can be cut into certain ranging materials with a chisel by a player with the appropriate Crafting level.
Amethyst can be used to make the following items:
Trivia
Speaking to Utrec in the Mining Guild will reveal that the dwarves in Keldagrim use it as a construction material.
During development, the mineral was planned to be named "quartz". After player complaints on how common quartz is in real life, Jagex renamed the mineral as "amethyst", which is rarer and more valuable.
In real life, amethyst is a violet variety of quartz often used in jewellery that is believed to protect its owner from drunkenness.
Semiprecious stones

 Pearl (Pearls) •  Opal (Uncut) •  Jade (Uncut) •  Red topaz (Uncut) •  Amethyst

Precious stones

 Sapphire (Uncut) •  Emerald (Uncut) •  Ruby (Uncut) •  Diamond (Uncut) •  Dragonstone (Uncut) •  Onyx (Uncut) •  Zenyte (Uncut) (Shard)

Quest-related gems

 Blood diamond •  Ice diamond •  Smoke diamond •  Shadow diamond •  Black prism •  Charged onyx •  Deconstructed onyx

Others

 Carved gem •  Enchanted gem •  Eternal gem •  Mystic jewel •  Polished blue gem (Unpolished)
Mining rocks and sources

Copper • Tin • Essence • Clay • Chocolate • Blurite • Limestone • Iron • Daeyalt • Elemental • Silver • Ash • Coal • Sandstone • Gold • Gem rocks • Granite • Mithril • Lunar • Lovakite • Adamantite • Runite • Amethyst

Ores

 Copper •  Tin •  Blurite •  Iron •  Daeyalt •  Elemental •  Silver •  Coal •  Gold •  Blasted •  Mithril •  Lunar •  Lovakite •  Adamantite •  Runite

Salts

Other mineables

 Clay •  Soft clay •  Chocolate chunks •  Pay-dirt •  Unidentified minerals •  Granite •  Limestone •  Soda ash •  Volcanic ash •  Sandstone • Uncut gem •  Rune essence •  Pure essence •  Dense essence block •  Volcanic sulphur •  Amethyst

Pickaxes

 Bronze •  Iron •  Steel •  Black •  Mithril •  Adamant •  Rune •  Dragon (or) •  Infernal
Strings

Logs

 Regular •  Oak •  Willow •  Maple •  Achey •  Yew • Magic •  Redwood

Unstrung bows

| | |
| --- | --- |
| Unstrong shortbows | |
| Unstrung longbows | |

Wooden shields

Arrows

 Arrow shaft •  Feather •  Headless arrow •  Bronze arrowtips •  Iron arrowtips •  Steel arrowtips •  Mithril arrowtips •  Broad arrowheads •  Adamant arrowtips •  Rune arrowtips •  Amethyst arrowtips •  Dragon arrowtips

Javelins

 Javelin shaft •  Bronze javelin heads •  Iron javelin heads •  Steel javelin heads •  Mithril javelin heads •  Adamant javelin heads •  Rune javelin heads •  Amethyst javelin heads •  Dragon javelin heads

Ballistae

 Ballista limbs •  Ballista spring •  Light frame •  Heavy frame •  Monkey tail •  Incomplete light ballista •  Incomplete heavy ballista •  Unstrung light ballista •  Unstrung heavy ballista

Ogre bows

 Ogre arrow shaft •  Flighted ogre arrow •  Wolfbone arrowtips •  Unstrung comp bow

Crossbow stock

 Wooden •  Oak •  Willow •  Teak •  Maple •  Mahogany •  Yew •  Magic

Crossbow limbs

 Bronze •  Blurite •  Iron •  Steel •  Mithril •  Adamantite •  Runite •  Dragon

Unstrung crossbows

 Bronze •  Blurite •  Iron •  Steel •  Mithril •  Adamant •  Runite •  Dragon

Unfinished bolts

 Bronze •  Blurite •  Silver •  Iron •  Steel •  Mithril •  Broad •  Adamant •  Runite •  Dragon

Bolt tips

 Opal •  Jade •  Pearl •  Red topaz •  Sapphire •  Emerald •  Ruby •  Diamond •  Amethyst •  Dragonstone •  Onyx

Dart tips