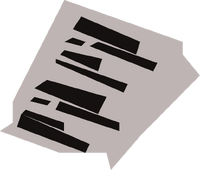 The ancient note can be found by inserting 100 numulites into one of the stone chests inside the House on the Hill on Fossil Island. There is a chance nothing will happen or a spike shooting out and stabbing the player for 9 damage, wasting the numulites.
This note can be added into the fossil island note book.
Transcript
I have been impressed how quickly my creatures have evolved, the others will have to listen now! Again, the similarities to the garic are so frequent, there must be an academic explanation. Several have formed territories based on the spore colonies that inhabit them, and the mutations are consistent based on geography. Much like ourselves, it was only a matter of time before a divide formed.
Characters

Curator Haig Halen • Barge foreman • Sawmill operator • Barge guard • Lead Navigator • Junior Navigator • John • David • Jack Seagull • Ahab • Odd Old Man • Apothecary

Items

 Sawmill proposal •  Sawmill agreement •  Bone charm •  Potion of sealegs •  Fossil island note book

Notes

 Scribbled note •  Partial note •  Ancient note •  Ancient writings •  Experimental note •  Paragraph of text •  Musty smelling note •  Hastily scrawled note •  Old writing •  Short note

Locations

Music

Related
Community content is available under
CC-BY-SA
unless otherwise noted.