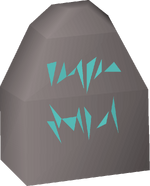 The ancient tablet is obtained as a possible reward from the Chambers of Xeric. It is used on Xeric's talisman to allow it to teleport to Xeric's Honour, otherwise known as Mount Quidamortem.
When the tablet is inspected, the chatbox message states You inspect the tablet, and sense a magical power, running your fingers over the inscriptions, they tingle as you get a feel for Xeric's power. He must have stored one of his best spells in this tablet, perhaps he has some sort of device which could utilise it?
Once the player uses the tablet on the talisman, the chatbox message states As the talisman and tablet are held together, a surge of power connects the two. After a brief moment, the tablet crumbles, but the eyes of the talisman glow stronger than ever.
Mount Quidamortem

Captain Rimor • Gnosi • Historian Duffy • Mountain Guide • Natural Historian • Stuliette

NPCs (inside)

Items

Fish

 Pysk (raw) •  Suphi (raw) •  Leckish (raw) •  Brawk (raw) •  Mycil (raw) •  Roqed (raw) •  Kyren (raw)

Bats

 Guanic (raw) •  Prael (raw) •  Giral (raw) •  Phluxia (raw) •  Kryket (raw) •  Murng (raw) •  Psykk (raw)

Herblore
Potions

Weak

 Elder (-) •  Twisted (-) •  Kodai (-) •  Revitalisation (-) •  Prayer enhance (-) •  Xeric's aid (-) •  Overload (-)

Standard

 Elder •  Twisted •  Kodai •  Revitalisation •
 Prayer enhance •  Xeric's aid •  Overload

Strong

 Elder (+) •  Twisted (+) •  Kodai (+) •  Revitalisation (+) •  Prayer enhance (+) •  Xeric's aid (+) •  Overload (+)

Texts

 Creature keeper's journal •  Nistirio's manifesto •  Tekton's journal •  Transdimensional notes •  Vanguard judgement •  Houndmaster's diary •  Dark journal

Miscellaneous

 Kindling •  Empty gourd vial (water-filled) •  Keystone crystal •  Cavern grubs •  Medivaemia blossom •  Mallignum root plank

Rewards

Melee

Ranged

 Dragon hunter crossbow •  Dragon thrownaxe •  Twisted bow •  Twisted buckler

Magic

Prayer scrolls

Other

 Dinh's bulwark •  Dragon harpoon •  Dark relic •  Ancient tablet •  Olmlet

Challenge Mode

| | |
| --- | --- |
| Pet transmogs |  Metamorphic dust •  Puppadile •  Tektiny •  Vanguard •  Vasa Minirio •  Vespina |
| Capes |  Xeric's guard •  Xeric's warrior •  Xeric's sentinel •  Xeric's general •  Xeric's champion |