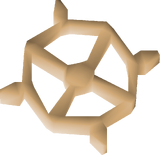 Ancient talisman is a quest item. It is obtained and used in The Dig Site quest. Once you have passed all exams, go to dig in level 3 site (requires trowel and specimen brush) and you will eventually find the ancient talisman. Bring it to the archaeology expert to learn that it is actually a talisman of Zaros. The archaeology expert is impressed and will give you an invitation letter to enter winches.
The talisman's inscription reads: "Zaros will return, And wreak his vengeance upon Zamorak the pretender."
After the quest, the talisman is on display at the Varrock Museum.
NPCs

Examiner • Researcher • Curator Haig Halen • Student • Digsite workman • Nick • Nisha • Panning guide • Archaeological expert • Doug Deeping

Items

 Unstamped letter •  Sealed letter •  Teddy •  Animal skull •  Specimen brush •  Panning tray •  Rock pick •  Special cup •  Trowel •  Specimen jar •  Ancient talisman •  Invitation letter •  Arcenia root •  Book on chemicals •  Chest key •  Unidentified liquid •  Ground charcoal •  Ammonium nitrate •  Nitroglycerin •  Chemical powder •  Mixed chemicals •  Chemical compound •  Stone tablet

Certificates

Extraneous digsite items

 Nuggets •  Belt buckle •  Broken armour •  Broken arrow •  Damaged armour •  Broken glass •  Broken staff •  Buttons •  Ceramic remains •  Cracked sample •  Old boot •  Old tooth •  Rusty sword •  Vase

Locations

Music

Related
Community content is available under
CC-BY-SA
unless otherwise noted.