Fire Emblem Warriors: Three Hopes - The Loop
Play Sound
The animate rock scroll is a quest item used in the One Small Favour quest as well as in King's Ransom. It contains the spell Um nahi listic durooo-rah!. It is obtained by giving some iron oxide to Wizard Cromperty in Ardougne. The scroll is used on a girl named Petra who has been accidentally embedded into the rock face of a cave near the Fishing Guild. After using it on her, however, the player accidentally animates some nearby rocks, bringing Slagilith to life. The player must kill this creature before trying again and successfully releasing Petra. The animation of using this spell looks like Wind Wave.
Sometimes you would not be able to cast this, and you would receive an in-game message, "You don't feel that you should cast this with enemies around". If this happens, kill the giant bats and goblins directly outside the room to fix the problem.
If you try to cast this with Slagilith alive, you would receive this message, "You're a little too busy fighting to cast that right now."
Once she has been freed, the player must return to Phantuwti in Seers' Village in order to complete the next step in the quest.
In King's Ransom, it is needed to free King Arthur from the statue underneath the Black Knights' Fortress. The scroll is obtained again by simply talking to Wizard Cromperty.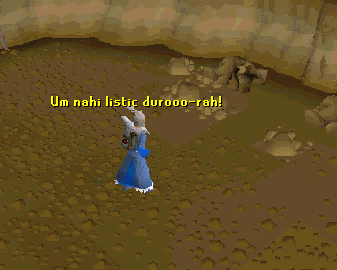 NPCs

Yanni Salika • Jungle forester • Captain Shanks • Brian • Aggie • Jimmy the Chisel • Johanhus Ulsbrecht • Fred the Farmer • Seth Groats • Horvik • Apothecary • Tassie Slipcast • Hammerspike Stoutbeard • Sanfew • Captain Bleemadge • Arhein • Phantuwti Fanstuwi Farsight • Wizard Cromperty • Tindel Marchant • Rantz • Gnormadium Avlafrim • Petra Fiyed

Monsters

Items

 Blunt axe •  Herbal tincture •  Stodgy mattress •  Comfy mattress •  Iron oxide •  Animate rock scroll •  Weather report •  Unfired pot lid •  Pot lid •  Airtight pot •  Breathing salts •  Pigeon cage •  Chicken cage •  Sharpened axe •  Red mahogany log

Vane parts

 Broken vane part •  Directionals •  Ornament •  Weathervane pillar

Guthix rest

 Bowl of hot water •  Cup of water •  Cup of hot water •  Ruined herb tea •  Herb tea mix •  Guthix rest

Reward

Locations

Shilo Village • Kharazi Jungle • Port Sarim • Draynor Village • Lumbridge • Varrock • Barbarian Village • Dwarven Mine • Taverley • White Wolf Mountain • Catherby • Seers' Village • Goblin Cave • East Ardougne • Port Khazard • Feldip Hills

Music

Ambient Jungle • Autumn Voyage • Barbarianism • Baroque • Cave Background • Chompy Hunt • Dream • Fanfare 3 • Fishing • Garden • Goblin Game • Horizon • Ice Melody • Jungly 1 • Overture • Sea Shanty 2 • Soundscape • Spirit • Start

Related
NPCs

Gossip • Anna • Pierre • Hobbes • Louisa • Mary • Donovan • Stanford • Judge • Prosecutor • David • Morgan Le Faye • Merlin • Wizard Cromperty • Alan • Renegade Knight

Guards

Knights of the Round Table

King Arthur • Sir Bedivere • Sir Gawain • Sir Kay • Sir Lancelot • Sir Lucan • Sir Palomedes • Sir Pelleas • Sir Tristram

Items

 Scrap paper •  Address form •  Black knight helm •  Holy grail •  Animate rock scroll •  Criminal's thread •  Hair clip

Rewards

 Antique lamp

Locations

Keep Le Faye • Black Knights' Fortress • Seers' Village Courthouse

Music

Related