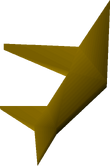 Arcenia root is a quest item used in the quest The Digsite to make Chemical compound along with nitroglycerin, ammonium nitrate and ground charcoal to blow up bricks blocking the path below digsite. It is obtained from tunnels where players can only enter with invitation letter. You need 10 agility to enter.
Trivia
After destroying the bricks under the Digsite, the Arcenia root spawns seem to shift to different locations - one of which is obscured completely by the sloping ground but can still be picked up. This hints that the dungeon after the explosion is actually a separate copy of the dungeon, which seems to be a common solution Jagex uses for changes made in quest areas.
The Model of the Arcenia root is the same as a Limpwurt root in 2005
NPCs

Examiner • Researcher • Curator Haig Halen • Student • Digsite workman • Nick • Nisha • Panning guide • Archaeological expert • Doug Deeping

Items

 Unstamped letter •  Sealed letter •  Teddy •  Animal skull •  Specimen brush •  Panning tray •  Rock pick •  Special cup •  Trowel •  Specimen jar •  Ancient talisman •  Invitation letter •  Arcenia root •  Book on chemicals •  Chest key •  Unidentified liquid •  Ground charcoal •  Ammonium nitrate •  Nitroglycerin •  Chemical powder •  Mixed chemicals •  Chemical compound •  Stone tablet

Certificates

Extraneous digsite items

 Nuggets •  Belt buckle •  Broken armour •  Broken arrow •  Damaged armour •  Broken glass •  Broken staff •  Buttons •  Ceramic remains •  Cracked sample •  Old boot •  Old tooth •  Rusty sword •  Vase

Locations

Music

Related
Community content is available under
CC-BY-SA
unless otherwise noted.