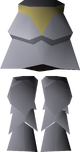 The Armadyl chainskirt is an item that can be obtained from Kree'arra and his bodyguards in the God Wars Dungeon. Along with the Armadyl helmet and chestplate, it is part of the Armadyl armour set, and requires 70 Defence and Ranged to wear.
The chainskirt is lighter in weight and statistically superior to every other leg
ranged armour
. However, it is also the only ranged armour which penalises melee attack bonuses.
Dropping monstersEdit
Headgear

 Void (+0) •  Cowl (+1) •  Coif (+2) •  Slayer helmet (i) (+3) •  Snakeskin (+4) •  Spined (+6) •  Archer helm (+6) •  Ranger hat (+6) •  Blessed (+7) •  Karil's (+7) •  Robin hood hat (+8) •  Third-age (+9) •  Armadyl (+10) •  Morrigan's (+13)

Bodies

 Void (+0) •  Leather (+2) •  Hardleather (+8) •  Studded(t)(g) (+8) •  Frog-leather (+10) •  Snakeskin (+12) •  Rangers' (+15) •  Spined (+15) •  Green d'hide(t)(g) (+15) •  Blue d'hide(t)(g) (+20) •  Red d'hide(t)(g) (+25) •  Black d'hide(t)(g) (+30) •  Blessed (+30) •  Third-age (+30) •  Karil's (+30) •  Armadyl (+33) •  Morrigan's (+36)

Legwear

 Void (+0) •  Frog-leather (+2) •  Leather (+4) •  Snakeskin (+6) •  Studded(t)(g) (+6) •  Green d'hide(t)(g) (+8) •  Spined (+8) •  Yak-hide (+10) •  Blue d'hide(t)(g) (+11) •  Red d'hide(t)(g) (+14) •  Penance skirt (+15) •  Black d'hide(t)(g) (+17) •  Blessed (+17) •  Third-age (+17) •  Karil's (+17) •  Armadyl (+20) •  Morrigan's (+23)

Vambraces

 Void (+0) •  Spined (+0) •  Hardleather (+1) •  Bronze (+2) •  Iron (+3) •  Steel (+4) •  Leather(spiked) (+4) •  Black (+5) •  Mithril (+6) •  Snakeskin (+6) •  Combat bracelet (+7) •  Regen bracelet (+7) •  Adamant (+7) •  Rune (+8) •  Green d'hide(spiked) (+8) •  Dragon (+9) •  Blue d'hide(spiked) (+9) •  Red d'hide(spiked) (+10) •  Black d'hide(spiked) (+11) •  Blessed (+11) •  Third-age (+11) •  Ranger (+11) •  Barrows (+12)

Boots

 Spined (+0) •  Frog-leather (+2) •  Snakeskin (+3) •  Blessed (+7) •  Ranger (+8) •  Pegasian (+12)

Capes

 Ranging (+0) • Fire cape (+1) • Infernal cape (+1) •  Ava's attractor (+2) •  Ava's accumulator (+4) •  Ava's assembler (+8)

Amulets

 Accuracy (+4) •  Power (+6) •  Glory (+10) •  Fury (+10) •  Anguish (+15)

Rings

 Archers (+4) •  Archers (i) (+8)

Shields

 Hard leather (+2) •  Snakeskin (+3) •  Green d'hide (+4) •  Book of balance (+4)•  Blue d'hide (+5) •  Red d'hide (+6) •  Black d'hide (+7) •  Unholy book (+8) •  Book of law (+10) •  Odium ward (+12) •  Dragonfire ward (+15) •  Twisted buckler (+18)
Standard

 Bronze •  Iron •  Steel •  Black •  White •  Mithril •  Adamant •  Rune •  Dragon

Treasure Trails

| | |
| --- | --- |
| Trimmed | |
| Gold-trimmed |  Bronze •  Iron •  Steel •  Black •  Mithril •  Adamant •  Rune •  Dragon •  Gilded |
| God | |

Other
Bosses
Items

| | |
| --- | --- |
| Godswords |  Armadyl (or) •  Bandos (or) •  Saradomin (or) •  Zamorak (or) |
| Armadyl armour |  Helmet •  Chestplate •  Chainskirt |
| Bandos armour |  Chestplate •  Tassets •  Boots |
| Weapons |  Saradomin sword (blessed) •  Zamorakian spear (hasta) •  Staff of the dead (toxic) •  Armadyl crossbow •  Steam battlestaff (or) |
| Pets |  Kree'arra •  General Graardor •  Commander Zilyana •  K'ril Tsutsaroth |
| Other | |

Music

Armageddon • Armadyl Alliance • Bandos Battalion • Strength of Saradomin • Zamorak Zoo

Related