World of Warcraft: Dragonflight - The Loop
Play Sound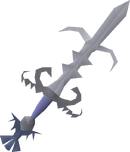 The Armadyl godsword is one of the four variants of the Godsword that was fought over during the God Wars. It is created by using an Armadyl hilt, obtained from Kree'arra, on a completed godsword blade. As with all godsword variants, it requires level 75 Attack to wield.
Players can attach an Armadyl godsword ornament kit, obtained from master clue scrolls, to cosmetically enhance the godsword, creating an Armadyl godsword (or). This only alters its appearance, and gives no stat enhancements. It also becomes untradeable, returning both the godsword and the ornament kit.
Special attack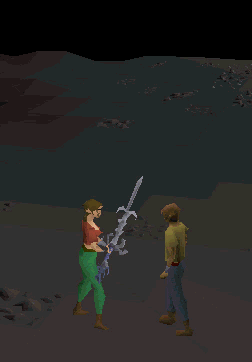 Like all godswords, the Armadyl godsword has a special attack, The Judgment. In addition to doubled accuracy, it inflicts damage with a 37.5% (125% multiplied by the hidden 110% every godsword special possesses, the calculation uses integer values after the multiplication of 1.1 the value gets rounded down and then multiplied by 1.25) higher maximum hit than a normal attack, consuming 50% of the player's special attack energy.
The Judgment is capable of dealing a very large amount of damage; under ideal conditions, a player can potentially deal over 70 damage to a monster with the special attack, or just over 90 damage when utilizing the effects of a black mask or a Castle wars bracelet. Because of this, the Armadyl godsword is very popular for most combat situations. In PvP scenarios the Armadyl godsword is most commonly used as a "knock-out" weapon, as the special is often capable of finishing an injured player in one large blow. In PvM scenarios its high hits are advantageous when fighting boss monsters such as General Graardor, especially when several players are competing to deal the most damage in order to secure a drop.
Combat styles
Trivia
The Armadyl godsword weighs 1kg more than the other godswords; this is due to the fact that the hilt is heavier.
Scimitar

 Bronze •  Iron •  Steel •  Black •  White •  Mithril •  Adamant •  Rune •  Gilded •  Dragon (or)

Longsword

 Bronze •  Iron •  Steel •  Black •  White •  Mithril •  Adamant •  Katana •  Rune •  Granite •  Dragon •  3rd age •  Vesta's

Battleaxe

 Bronze •  Iron •  Steel •  Black •  White •  Mithril •  Adamant •  Rune •  Leaf-bladed •  Dragon

Claws

 Bronze •  Iron •  Steel •  Black •  White •  Mithril •  Adamant •  Rune •  Dragon

Halberd

 Bronze •  Iron •  Steel •  Black •  White •  Mithril •  Adamant •  Rune •  Dragon •  Crystal

Two-handed sword

| | |
| --- | --- |
| Standard |  Bronze •  Iron •  Steel •  Black •  White •  Mithril •  Adamant •  Rune •  Gilded •  Dragon |
| Godswords | |
| Other | |

Quests

 Blurite •  Anger sword •  Anger battleaxe •  Excalibur •  Silverlight •  Darklight •  Wooden spoon •  Skewer •  Cleaver

Castle Wars

Other

 Iron sickle •  Silver sickle (b) •  Starter sword •  Spear •  Harry's cutlass •  Lucky cutlass •  Brine sabre •  Fremennik •  Arclight •  Abyssal whip (volcanic) (frozen) •  Abyssal tentacle •  Scythe of vitur
Bosses

Items

| | |
| --- | --- |
| Godswords |  Armadyl (or) •  Bandos (or) •  Saradomin (or) •  Zamorak (or) |
| Armadyl armour | |
| Bandos armour |  Chestplate •  Tassets •  Boots |
| Weapons |  Saradomin sword (blessed) •  Zamorakian spear (hasta) •  Staff of the dead (toxic) •  Armadyl crossbow •  Steam battlestaff (or) |
| Pets |  Kree'arra •  General Graardor •  Commander Zilyana •  K'ril Tsutsaroth |
| Other | |

Music

Armageddon • Armadyl Alliance • Bandos Battalion • Strength of Saradomin • Zamorak Zoo

Related