Aviansies are found inside the Armadyl section of God Wars Dungeon, which is at the south-west part of the dungeon and requires 70 Ranged to enter. Alternatively, they can also be found in the Wilderness God Wars Dungeon, making these more dangerous to reach due to the threat of player killers, but they drop noted adamantite bars without the need to do a hard Achievement Diary. Nevertheless, both obstacles of entry in both dungeons require 60 Strength or 60 Agility to navigate.
How to get there
God Wars Dungeon
Note: Players visiting the dungeon on their first trip will need a rope, and a mithril grapple to gain access to the eyrie.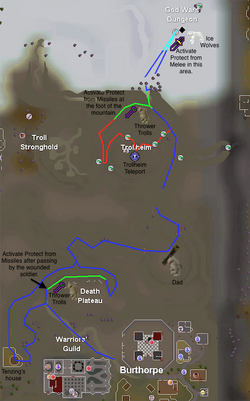 Wilderness God Wars Dungeon
WARNING:
Beware of player killers!
Players must wear some
Armadyl
,
Saradomin
and
Zamorak
-related
item
, or else everything in the facility will become
aggressive
. It is strongly advised to stay away from the eastern portion of the dungeon and not use the 60
Agility
shortcut
unless a
Bandos
item is worn.
Suggested skills
Equipment
Community content is available under
CC-BY-SA
unless otherwise noted.