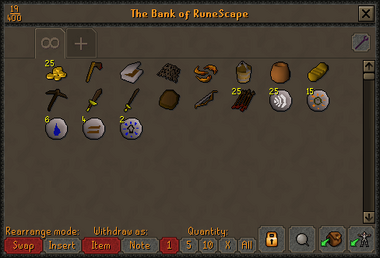 A Bank is a facility that allows players to deposit, store and withdraw their items. It is usually a standalone building, but sometimes takes the form of a chest, or even a non-player character. A Bank Deposit Box allows players to deposit any items in their inventory, but does not allow for withdrawing items from their bank. The bank was later updated to have tabs for easier bank organization and the bank size was increased to 600 slots on 19 June, 2014. Banks were updated again on 22 January of 2015 to 800 slots along with the Zulrah boss.
Banks are often popular locations for trading as players are right beside where they can keep most of their money and items. Banks are indicated on the world map with a dollar (

) icon.
The tabs in the bank can be collapsed if right-clicked. Collapsing a tab puts all items in the tab into the main bank tab.
A good way to withdraw a lot of items at once is to set the withdraw option to be very big, so the clicks don't have to be accurate, a good way to do this is to set the withdraw to max cash, which can be done by clicking "Withdraw-X", and type "2148m". Another withdrawing stategy is to do the math in the box, which can be done by doing k's or m's, k being 1,000, and m being 1,000,000, example : "to withdraw 100,000,000, you can withdraw 100m, or 100000k".
There are many unbankable items in the game, such as
genie lamps
books of knowledge
Trivia
If player tries to use Jagex Moderator command ::bank in a chat they will automatically say "Hey, everyone, I just tried to do something very silly!"