World of Warcraft: Dragonflight - The Loop
Play Sound
The official world for Barbarian Assault is world 306 (P2P).

Barbarian Assault is a safe team-based Combat minigame located at the Barbarian Outpost. A team of five players must work together to battle 10 waves of Penance, before finally defeating the Penance Queen herself.
There are no requirements for this minigame, although a player with a higher combat level will generally perform better. As this is a safe minigame, no items will be lost on death.
Introduction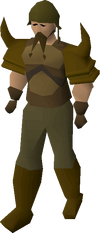 The Barbarian Assault minigame is a battleground established by the Barbarians to fight against Penance creatures. Players must complete the tutorial by talking to Captain Cain before they can play the minigame.
Players must form a team of five players in order to play. Completion of each wave will reward each player with Honour points specific to the role they chose. Honour points can be used to redeem a variety of combat-based equipment, notably the fighter torso. Players can also gamble Honour points for a chance to receive the rare dragon chainbody or the pet penance queen.
Players can check the Honour points they have earned by talking to Commander Connad or by checking the blackboard.
Getting there
The Barbarian Assault arena can be found, underground, at the Barbarian Outpost just north of Baxtorian Falls. There are several methods by which players can get here:
Gameplay
Barbarian Assault is a safe minigame and, as such, players will not lose any items upon death. As combat is the minigame's main component, high Defence and Hitpoints levels provide an advantage.
If a teammate is killed, the entire group must restart the wave. Contrary to certain beliefs, firing the cannon in Barbarian Assault does not reduce the team's points received for that wave[1].
Basics
Details information regarding creating a team, brief role descriptions, and Penance monsters that will be faced.
Gameplay
Overview of basic gameplay technique. Includes information on the gameplay interface, battlefield layout and how to complete player roles.
Strategies
Contains information pertaining to more advanced, specific, and efficient gameplay techniques.
Wave breakdown
This breaks down every wave and tells you the amount of monsters in the wave.
Rewards
Contains all the rewards available from the Barbarian Assault minigame, at the cost of Honour points.
Personalities
Music
References
Trivia