Fire Emblem Warriors: Three Hopes - The Loop
Play Sound

A battlestaff is a members-only staff which boosts Magic. It requires 30 Attack and Magic to wield. Mostly, though, it is used in making elemental staves. By using the appropriate (earth, water, fire, air) charge orb spell on an Obelisk with an unpowered orb in your inventory, players can make an elemental orb, which can then be attached to the top of the battlestaff. Should a player wish to do so, they can take the completed battlestaff to Thormac (if Scorpion Catcher is completed) to make a mystic staff for 40,000 coins (30,000 if the player has completed the hard Kandarin Diary, or 20,000 if the player has completed the elite Kandarin Diary).
Visually the battlestaff is identical to the staff, however the battlestaff holds better stats.
Battlestaves can be bought from Zaff in Varrock (after partial completion of What Lies Below), The magic store owner in the Wizards' Guild or Baba Yaga on the Lunar Isle. Zaff stocks 15 to 120 extra staves daily for players who have completed the Varrock Diary. These can be obtained by interacting with the barrel in the northwest corner of the shop.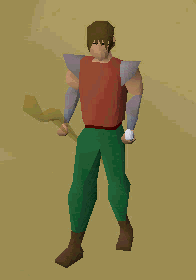 Combat styles
Dropping monsters
Staves

 Staff (+4) •  Magic (+10) •  White (+10) •  Air (+10) •  Water (+10) •  Earth (+10) •  Fire (+10) •  Bryophyta's (+15) •  Ancient (+15) •  Slayer's (e) (+12) •  Iban's (u) (+10) •  Toktz-mej-tal (+15) •  Ahrim's (+15) •  Staff of the dead (toxic) (+17) •  Staff of light (+17) •  Zuriel's (+18)

Battlestaves

 Battlestaff (+10) •  Air (+10) •  Water (+10) •  Earth (+10) •  Fire (+10) •  Lava (or) (+10) •  Mud (+10) •  Steam (or) (+10) • Smoke (+10) •  Mist (+10) •  Dust (+10)

Mystic staves

 Air (+10) •  Water (+10) •  Earth (+10) •  Fire (+10) •  Lava (or) (+10) •  Mud (+10) •  Steam (or) (+10) • Smoke (+10) •  Mist (+10) •  Dust (+10)

Tridents

 Starter staff (+10)  Trident of the seas (e) (+15) •  Trident of the swamp (e) (+25) •  Sanguinesti staff (+25) •  Dawnbringer (+25)

Wands

 Beginner (+5) •  Apprentice (+10) •  Teacher (+15) •  Master (+20) •  3rd age (+20) •  Kodai (+28)

Croziers

 Ancient (+10) •  Armadyl (+10) •  Bandos (+10) •  Guthix (+10) •  Saradomin (+10) •  Zamorak (+10)

Other

 Broken (+0) •  Staff of armadyl (+0) •  Cursed goblin staff (+0) •  Skull sceptre (i) (+4) •  Dramen (+10) •  Lunar (+13) •  Rod of ivandis (+4) •  Ivandis flail (+8) •  Thammaron's sceptre (+20) •  Pharaoh's sceptre (+10) •  Void knight mace (+8)