For a list of all items and upgrades within the Construction skill, see Construction/All milestones.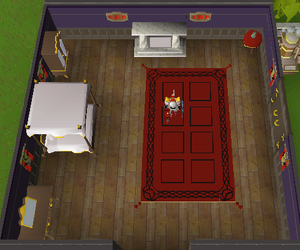 A Bedroom can be made in a Player-owned house using the Construction skill. Players must have at least level 20 Construction to be able to make a bedroom. To hire a servant, there must be at least two bedrooms with beds within the player's house. It costs 10,000 coins to build.
There are seven different types of hotspot the player can build on:
Bed
Dresser
Fireplace
Clock
Rug
Curtain
Wardrobe
The bedroom has 2 non-parallel doors. This makes it an efficient corner room.
Bed
Dresser
The dresser allows you to change your hair style and colour. Higher grades offer more styles and colours to choose from.
Fireplace
Note: When fires are lit here, the player will get slightly more Firemaking experience, and the fire will last longer.
Clock
Rug
Curtains
Wardrobe
The wardrobe allows you to change your basic clothing and shoes. Higher grades offer more options to choose from.
Complete Bedroom
To build the highest level furniture in all hotspots will take 3 teak planks, 12 mahogany planks, 9 bolts of cloth, 6 gold leaves, 1 marble block, 2 molten glass and 1 clockwork.

 Garden •

 Parlour •

 Kitchen •

 Dining Room •

 Workshop •

 Bedroom •

 Skill Hall •

 Games room •

 Combat Room •

 Quest Hall •

 Menagerie •

 Study •

 Costume Room •

 Chapel •

 Portal Chamber •

 Formal Garden •

 Throne Room •

 Oubliette •

 Superior Garden •

 Dungeon •

 Treasure Room •

 Achievement Gallery
Beds

 Wooden •  Oak •  Large oak •  Teak •  Large teak •  4-poster •  Gilded 4-poster

Dressers

 Shaving stand •  Oak shaving stand •  Oak dresser •  Teak dresser •  Fancy teak dresser •  Mahogany dresser •  Gilded dresser

Fireplaces

Clocks

 Oak •  Teak •  Servant's moneybag •  Gilded

Rugs

Curtains

Wardrobe

 Shoe box •  Oak drawers •  Oak wardrobe •  Teak drawers •  Teak wardrobe •  Mahogany wardrobe •  Gilded wardrobe
Community content is available under
CC-BY-SA
unless otherwise noted.