Fire Emblem Warriors: Three Hopes - The Loop
Play Sound
This article is about the Fremennik drink. For the regular beer, see Beer.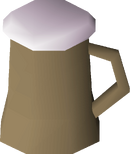 A beer tankard is an alcoholic beverage, and like most alcoholic beverages in RuneScape, it will increase a player's Strength level temporarily whilst reducing their Attack level. This item is obtained in the Fremennik area, by using an empty tankard on a tapped barrel (both of which are easily found in Rellekka.)
Players can buy a tankard of beer from Thora the Barkeep in the Rellekka Longhall Bar for 26 coins, or take the tankard which respawns within the longhall. If you attempt to take this one, Manni the Reveller will tell you to get your hands off his beer, unless you have started The Fremennik Trials.
After drinking the beer, the message reads "You quaff the beer. You feel slightly reinvigorated... but very dizzy too". The tankard is larger than a beer glass so therefore contains more beer. When emptied the player will have drunk a larger amount of beer, reducing their Attack level by 9, and raising Strength by 4.
NPCs

Poison Salesman • Council workman • Lalli • Askeladden • Fossegrimen • Yrsa • Skulgrimen • Thora the Barkeep • Longhall Bouncer • Sailor • Styrmir

Fremennik council

Brundt the Chieftain • Manni the Reveller • Olaf the Bard • Peer the Seer • Sigli the Huntsman • Sigmund The Merchant • Swensen the Navigator • Thorvald the Warrior • Inga • Agnar • Sassilik • Pontak • Fisherman

Enemies

Koschei the deathless • Lanzig • Freidir • Borrokar • The Draugen

Items

 Keg of beer •  Beer tankard •  Tankard •  Low alcohol keg •  Strange object •  Lit strange object •  Branch •  Pet rock •  Golden fleece •  Golden wool •  Wooden disk •  Magnet •  Blue thread •  Small pick •  Toy ship •  Old red disk •  Red disk •  Red herring •  Sticky red goop •  Frozen key •  Seer's key •  Hunters' talisman •  Legendary cocktail •  Champions token •  Unusual fish •  Custom bow string •  Sturdy boots •  Exotic flower •  Fremennik blade

Bucket

 Empty •  1/5ths full •  2/5ths full •  3/5ths full •  4/5ths full •  Full •  Frozen

Jug

 Empty •  1/3rds full •  2/3rds full •  Full •  Frozen

Vase

 Vase •  Vase of water •  Vase lid •  Sealed vase

Lyre

Texts and scrolls

 Promissory note •  Warriors' contract •  Weather forecast •  Sea fishing map •  Tracking map •  Fiscal statement •  Fremennik ballad

Locations

Music

Related
Normal ales

 Asgarnian ale (keg) •  Axeman's folly (keg) •  Bandit's brew •  Beer •  Bloody bracer •  Chef's delight (keg) •  Cider (keg) •  Dragon bitter (keg) •  Dwarven stout (keg) •  Greenman's ale (keg) •  Grog •  Moonlight mead (keg) •  Slayer's respite (keg) •  Wizard's mind bomb (keg)

Mature ales

 Asgarnian ale (keg) •  Axeman's folly (keg) •  Chef's delight (keg) •  Cider (keg) •  Dragon bitter (keg) •  Dwarven stout (keg) •  Greenman's ale (keg) •  Moonlight mead (keg) •  Slayer's respite (keg) •  Wizard's mind bomb (keg)

Other drinks

 Ahab's beer •  Asgoldian ale •  Bottle of wine •  Brandy •  Braindeath 'rum' •  Gin •  Half full wine jug •  Jug of wine •  Karamjan rum •  Keg of beer •  Kelda stout •  Khali brew •  Rum (Trouble Brewing) •  Beer tankard •  Vodka •  Whisky

Related