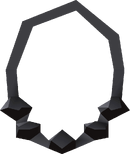 The berserker necklace is an onyx necklace enchanted by the spell Lvl-6 Enchant. When worn, it increases the amount of damage the wearer does when wielding an obsidian melee weapon (Toktz-xil-ak, Tzhaar-ket-om, Tzhaar-ket-em, or Toktz-xil-ek) by 20%. However, in exchange it lowers your melee accuracy and your defences against all combat styles. The bonus does stack with the Obsidian armour (helmet, platebody and platelegs).
Crafted

 Gold •  Opal •  Sapphire •  Jade •  Emerald •  Topaz •  Ruby •  Diamond  Dragonstone •  Onyx •  Zenyte

Enchanted

 Dodgy •  Games •  Passage •  Binding •  Faith •  Digsite •  Phoenix •  Skills •  Berserker •  Anguish (or)

Other

 Brass •  Clean •  Occult (or) •  'perfect' •  Silver •  Stolen family heirloom
Community content is available under
CC-BY-SA
unless otherwise noted.