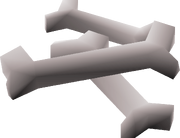 Big bones are items associated with the Prayer skill. They are an intermediate level bone, although they are arguably the best training option for free-to-play players. They give 15 Prayer experience when buried normally, 52.5 Prayer experience each when used on a gilded altar with both burners lit, or 60 Prayer experience when offered at the Ectofuntus.
Big bones are always dropped by certain large monsters including giants, ogres, trolls, cyclopes, and the lizards in the Kharidian Desert just north of Nardah. A few spawns of big bones can also be found in the Bone Yard in the Wilderness.
Dropping monsters
Standard bones
Draconic bones

 Baby dragon •  Dragon •  Wyvern •  Lava dragon •  Superior

Monkey bones

 Karamjan •  Small zombie •  Large zombie •  Gorilla •  Bearded gorilla •  Small ninja •  Medium ninja •  Skeleton gorilla

Ogre bones

 Jogre (Burnt) (Pasty) (Marinated) •  Zogre •  Fayrg •  Raurg •  Ourg

Enriched bones

Special bones

 Curved •  Long •  Chewed •  Mangled •  Shaikahan •  Sheep (1) (2) (3) (4)
Community content is available under
CC-BY-SA
unless otherwise noted.