Fire Emblem Warriors: Three Hopes - The Loop
Play Sound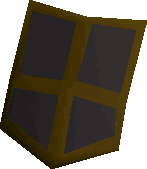 A black kiteshield is the fourth strongest kiteshield. It is dropped by Ice Giants and sold in Keldagrim by Saro however, isn't in stock. It has roughly the same bonuses as a white kiteshield. When compared to a mithril sq shield, it is about the same, with only a -1 magic defence loss but extra +1 ranged defence bonus.
The black kiteshield can be found in trimmed and heraldic forms from treasure trails.
As with all Black items, it can not be made with the Smithing skill.
Heraldic black kiteshields
The Heraldic black kiteshields can be gained from level 1 treasure trails but can be traded in the free worlds. There are five types of heraldic black kiteshields, designated h1 to h5 and they cannot be made through the Smithing skill.
Trimmed black kiteshields
A Black Kiteshield (g) and a Black Kiteshield (t) can both be obtained from Level 1 Treasure trails. They have the same stats as a normal black kiteshield and only have cosmetic differences. They cannot be made through the Smithing skill.
Dropping Monsters
↑

5/128 on free-to-play worlds.
Standard

 Bronze •  Iron •  Steel •  Black •  White •  Mithril •  Adamant •  Rune •  Dragon

Treasure Trails

 3rd age

Trimmed

Gold-trimmed

 Bronze •  Iron •  Steel •  Black •  Mithril •  Adamant •  Rune •  Gilded •  Dragon

God

Heraldic

Other

 Corrupted •  Heraldic (Construction) •  Runefest •  Training •  Wooden

Castle Wars
Falador Diary
Weapons

 Dagger •  Axe •  Mace •  Claws •  Sword •  Longsword •  Scimitar
 Spear •  Warhammer •  Battleaxe •  Two-hander •  Halberd •  Pickaxe •  Cane

Armour

 Medium helm •  Full helm (t) (g) •  Square shield •  Kiteshield (t) (g)
 Chainbody •  Platebody (t) (g) •  Plateskirt (t) (g) •  Platelegs (t) (g) •  Boots
 Gloves •  Defender

Black heraldic armour

| | |
| --- | --- |
| Type 1 | |
| Type 2 | |
| Type 3 | |
| Type 4 | |
| Type 5 | |

Ranged

Other