Template:RSW There is an imbued version of this item here.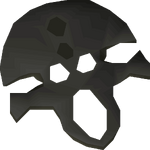 The Black mask is a helmet worn in the head slot. The mask has the same stats as a black med helm. It gives a player 7/6[1] Attack and Strength boosts against all monsters on the player's current Slayer task. You need 20 Strength, 10 Defence and 40 Combat to wear it.
The black mask is a rare drop from Cave Horrors, which many people camp as black masks are high in demand. However, killing them requires 58 Slayer and the completion of Cabin Fever, which deters many players from killing them.
When dropped by Cave Horrors, the mask has 10 charges that will be discharged to monsters at random. These charges reduces the opponent's Defence by 3-10 levels. Once the mask has been drained of all 10 charges, there is no way to recharge it; however, the Attack and Strength boosts still remain.
For 1,250,000 Nightmare Zone points, you can upgrade your black mask to a Black mask (i). A Black mask with charges (1-10) may also be imbued.
Players can craft a black mask and other Slayer items into a Slayer helmet, provided they had acquired the ability to make the helmets. Slayer helmets are valued because of their effects and the fact that they are not tradeable.
References
Equipment from Slayer Masters

 Broad arrows •  Earmuffs •  Facemask •  Insulated boots •  Leaf-bladed spear •  Nose peg •  Mirror shield •  Slayer gloves •  Slayer's staff •  Spiny helmet •  Lit bug lantern •  Witchwood icon

Items from Slayer Masters

 Bag of salt •  Enchanted gem •  Fishing explosive •  Fungicide spray •  Fungicide •  Rock hammer •  Rock thrownhammer •  Ice cooler •  Slayer bell •  Broad arrowheads •  Unfinished broad bolts •  Broad arrowhead pack •  Unfinished broad bolt pack

Purchased with Slayer reward points

 Slayer ring (eternal) •  Broad bolts •  Herb sack •  Slayer helmet (imbued) •  Black slayer helmet (imbued) •  Green slayer helmet (imbued) •  Red slayer helmet (imbued) •  Purple slayer helmet (imbued) •  Turquoise slayer helmet (imbued)

Others

 Black mask (imbued) •  Leaf-bladed sword •  Leaf-bladed battleaxe •  Slayer's staff (e)
Bosses

Agrith-Naar • Agrith-Na-Na • Arrg • Barrelchest • Black demon • Black Knight Titan • Bouncer • Chronozon • Corrupt Lizardman • Corsair Traitor • Count Draynor • Culinaromancer • Dad • Dagannoth mother • Damis • Dessourt • Dessous • Elvarg • The Everlasting • Evil Chicken • Fareed • Flambeed • Gelatinnoth Mother • Giant Roc • Giant scarab • Glod • Ice Troll King • The Inadequacy • Jungle Demon • Kamil • Karamel • The Kendal • Khazard warlord • King Roald • Me • Moss giant • Nazastarool • Nezikchened • Sand Snake • Skeleton Hellhound • Slagilith • Tanglefoot • Tree spirit • Treus Dayth • The Untouchable • Witch's experiment

Rewards

| | |
| --- | --- |
| Resources |  Snape grass •  Red spiders' eggs •  Flax •  Bucket of sand •  Potato cactus •  Seaweed •  Dragon scale dust •  Compost potion •  Herb box •  Vial of water •  Scroll of redirection |
| Upgrades |  Black mask (imbued) •  Slayer helmet (imbued) •  Salve amulet (imbued) •  Salve amulet (e) (imbued) •  Ring of suffering (imbued) •  Berserker ring (imbued) •  Warrior ring (imbued) •  Archers ring (imbued) •  Seers ring (imbued) •  Tyrannical ring (imbued) •  Treasonous ring (imbued) •  Ring of the gods (imbued) •  Granite ring (imbued) •  Crystal bow •  Crystal shield •  Crystal halberd |
| Benefits | |