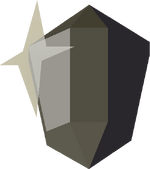 The black prism can be obtained during Zogre Flesh Eaters quest. During the quest it can be found in the coffin to the west of the skeleton on the floor. If you look-at it, there is a description which suggests that it was involved in the explosion that hit the area, and was blasted into the coffin. Zavistic Rarve identifies it as a tool of necromancy. This artefact has been used to populate Jiggig with Zogres. Later in the Quest, The player discovers that it was Sithik Ints who has used to do so out of his hatred toward Ogres. You can sell it to Zavistic Rarve for 2000 coins or Yanni Salika for 5000 coins. This also looks very similar to the Shadow diamond from the quest Desert Treasure and a cut onyx rotated.
Trivia
If you sell the Black prism to either Zavistic or Yanni, they will automatically take ANY prisms you own. So even if you have multiple prisms in your inventory or stored in your bank, they will all automatically disappear.

However, if you drop several prisms before selling one, you will be able to keep the ones on the ground.
If you try selling a second Black prism to Yanni, he will refuse to buy it again.
If you sold a prism to Yanni, then Zavistic will refuse to buy your drop tricked second one, claiming that "you have already sold me one of these". Therefore you should sell your prism only once, to the highest bidder: Yanni Salika, if you can.
Semiprecious stones

 Pearl (Pearls) •  Opal (Uncut) •  Jade (Uncut) •  Red topaz (Uncut) •  Amethyst

Precious stones

 Sapphire (Uncut) •  Emerald (Uncut) •  Ruby (Uncut) •  Diamond (Uncut) •  Dragonstone (Uncut) •  Onyx (Uncut) •  Zenyte (Uncut) (Shard)

Quest-related gems

 Blood diamond •  Ice diamond •  Smoke diamond •  Shadow diamond •  Black prism •  Charged onyx •  Deconstructed onyx

Others

 Carved gem •  Enchanted gem •  Eternal gem •  Mystic jewel •  Polished blue gem (Unpolished)
NPCs

Grish • Zavistic Rarve • Sithik Ints • Bartender • Brentle Vahn • Slash Bash • Zombie • Ogre guard • Zogre • Skogre

Items

 Ruined backpack •  Dragon inn tankard •  Torn page •  Black prism •  Strange potion  Cup of tea •  Unstrung comp bow •  Comp ogre bow •  Ogre arrow shaft •  Flighted ogre arrow •  Ogre gate key •  Ogre artefact •  Ogre coffin key •  Rogue's purse potion (unf) •  Relicym's Balm

Books

Sithik Portraits

Locations

Related
Community content is available under
CC-BY-SA
unless otherwise noted.