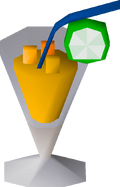 The Blurberry special can be mixed with 1 Vodka, 1 Brandy, 1 Gin, 1 orange, and 2 lemons. It can be finished by adding 1 equa leaf, 1 sliced lime, 1 diced lemon, and 1 diced orange as a garnish. This requires 37 Cooking to make.
The ingredients (not including cocktail shaker, cocktail glass, or knife) cost 30 coins per Blurberry special made.
All of these ingredients can be purchased at Funch's Fine Groceries. A premade blurb' sp (Premade blurberry special) can be purchased at the Blurberry Bar for 30 coins. An alternative for players who need a Blurberry special for Death Plateau is to buy a Premade Blurberry Special from the Gnome barman at the first floor on the eastside of the Grand Tree, provided he has some in stock.
It heals 6 HP, increase strength by 6, and reduces attack by 4.
Trivia
Contrary to popular belief, the premade Blurberry special will work for the Death Plateau quest.
When taking the Gnome glider to Gandius, there is a Premade blurb' sp that spawns on a table nearby the landing site.
Cocktails

| | |
| --- | --- |
| Self-made |  Fruit blast (mixed) •  Dirty blast •  Pineapple punch (mixed) •  Wizard blizzard (mixed) •  Short green guy (mixed) •  Drunk dragon (1 • 2 • 3) •  Chocolate saturday (1 • 2 • 3) •  Blurberry special (mixed) |
| Pre-made |  Fruit blast •  Pineapple punch •  Wizard blizzard •  Short green guy •  Drunk dragon •  Chocolate saturday •  Blurberry special |

Crunchies

| | |
| --- | --- |
| Self-made |  Toad (Half made • Unfinished) •  Spicy (Half made • Unfinished) •  Worm (Half made • Unfinished) •  Chocolate chip (Half made • Unfinished) •  Raw •  Half baked •  Burnt |
| Pre-made |  Toad •  Spicy •  Worm •  Chocolate chip |

Battas

| | |
| --- | --- |
| Self-made |  Fruit (Half made • Unfinished) •  Toad (Half made) •  Worm (Half made • Unfinished) •  Vegetable (Half made • Unfinished) •  Cheese & tomato (Half made • Unfinished) •  Raw •  Half baked •  Burnt |
| Pre-made |  Fruit •  Toad •  Worm •  Vegetable •  Cheese & tomato |

Bowls

| | |
| --- | --- |
| Self-made |  Worm hole (Half made • Unfinished) •  Veg ball (Half made • Unfinished) •  Tangled toad's legs (Half made) •  Chocolate bomb (Half made • Unfinished) •  Raw •  Half baked •  Burnt |
| Pre-made | |

Ingredients

| | |
| --- | --- |
| Supplies |  Cocktail guide •  Cocktail shaker •  Cocktail glass •  Gianne's cook book •  Gianne dough •  Batta tin •  Crunchy tray •  Gnomebowl mould |
| Drinks | |
| Fruits |  Lemon •  Lemon chunks •  Lemon slices •  Orange •  Orange chunks •  Orange slices •  Pineapple •  Pineapple chunks •  Pineapple ring •  Lime •  Lime chunks •  Lime slices |
| Additional |  Dwellberries •  Equa leaves •  Pot of cream •  Swamp toad •  Toad's legs •  King worm •  Gnome spice |