World of Warcraft: Dragonflight - The Loop
Play Sound


Bone daggers can be bought from Nardok's Bone Weapons in the Dorgeshuun Mines outside Dorgesh-Kaan for 2,000 coins. They can also be poisoned.
Its stats are the same as those of the iron dagger.
The Bone dagger is also used for a medium clue scroll step.
Combat styles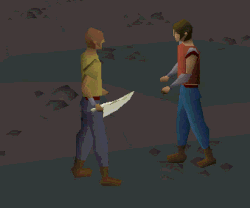 Special attack
The bone dagger has a special attack, Backstab, (75%) which has a guaranteed hit if you weren't the last one to attack the target [1], and lowers the target's Defence by the amount of damage dealt, similar to the Bandos godsword's / Bone crossbow's special attack.
The special attack can only be used after completing the Death to the Dorgeshuun quest, but it can be used and poisoned without completing the quest .
References
Dagger

 Bronze •  Iron •  Bone •  Steel •  Black •  White •  Mithril •  Adamant •  Rune •  Toktz-xil-ek •  Dragon •  Abyssal

Sword

 Training •  Wooden •  Bronze •  Iron •  Steel •  Black •  White •  Mithril •  Adamant •  Rune •  Rapier •  Leaf-bladed •  Toktz-xil-ak •  Dragon •  Ghrazi rapier

Spear

 Bronze •  Iron •  Bone •  Steel •  Black •  Mithril •  Adamant •  Rune •  Gilded •  Leaf-bladed •  Dragon •  Guthan's •  Zamorakian •  Vesta's

Hasta

 Bronze •  Iron •  Steel •  Mithril •  Adamant •  Rune •  Gilded •  Zamorakian

Other

 Egg whisk •  Spork •  Kitchen knife •  Wolfbane •  Keris •  Dark •  Glowing

 Bone dagger •
 Bone spear •

 Bone club •

 Dorgeshuun crossbow •

 Bone bolts