Fire Emblem Warriors: Three Hopes - The Loop
Play Sound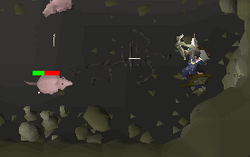 Brine rats are Slayer monsters that can only be fought after the partial completion of Olaf's Quest. They are notable for being the only monsters to drop the Brine sabre. A Slayer level of 47 is required to fight a brine rat, and a spade is required to access the cave. The brine rats are relatively weak, but it is recommended to bring food if you have less than 70 Defence. Olaf has an infinite fire located beside him, and the unnoted raw swordfish drops can be collected and cooked on the fire, just outside the brine rat cave. Brine rats can also be killed as an alternative for a rat slayer assignment provided the player has 47 Slayer.
Rangers and mages may attack behind the skeletons and bones lying throughout the room to safespot the rats. The best location being behind the bones in the north-west corner.
Bringing a tinderbox and a couple of logs may be advisable if staying there for a while due to their raw swordfish/shark drop.
A Dwarf multicannon is usable in the Brine Rat Cavern.
Locations
Drops
100%
Food
Runes
Other drops
Slayer Tower

 Crawling Hand •  Banshee •  Infernal Mage •  Bloodveld •  Aberrant spectre •  Gargoyle (Boss • Dusk • Dawn) •  Nechryael •  Abyssal demon (Boss)

Fremennik Slayer Dungeon

 Cave crawler •  Rockslug •  Cockatrice •  Pyrefiend •  Basilisk •  Jelly •  Turoth •  Kurask

Lumbridge Swamp Caves
God Wars Dungeon (Wilderness)

 Pyrefiend •  Bloodveld •  Spiritual ranger •  Spiritual warrior •  Spiritual mage

Stronghold Slayer Cave
Catacombs of Kourend

 Twisted Banshee •  Warped Jelly •  Mutated Bloodveld •  Deviant spectre •  Brutal black dragon •  Greater Nechryael •  Abyssal demon •  Dark beast

Wyvern Cave

 Long-tailed Wyvern •  Spitting Wyvern •  Taloned Wyvern •  Ancient Wyvern

Others

 Desert Lizard •  Mogre •  Harpie Bug Swarm •  Killerwatt •  Molanisk •  Terror dog •  Sea snake (Young) (Hatchling) •  Brine rat •  Fever spider •  Mutated Zygomite (Ancient) •  Cave horror •  Dust devil •  Skeletal Wyvern •  Cave kraken (Boss) •  Dark beast •  Cerberus •  Smoke devil (Boss)

| | |
| --- | --- |
| Superior monsters |  Crushing hand •  Chasm Crawler •  Screaming banshee (Twisted) •  Giant rockslug •  Cockathrice •  Flaming pyrelord •  Monstrous basilisk •  Malevolent Mage •  Insatiable Bloodveld (Mutated) •  Vitreous Jelly (Warped) •  Cave abomination •  Abhorrent spectre (Repugnant) •  Choke devil •  King kurask •  Marble gargoyle •  Nechryarch •  Greater abyssal demon •  Night beast •  Nuclear smoke devil |
NPCs

Items

 Windswept logs •  Crude carving •  Cruder carving •  Damp planks •  Sven's last map •  Key •  Rotten barrel •  Brine sabre •  Parchment

Locations

Music

Related

Quick Guide • Windswept tree • Brine rat