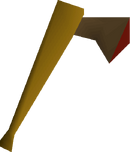 The Bronze axe is the weakest axe in Old School RuneScape. It can be wielded for combat, or used to cut trees in Woodcutting. It requires an Attack level of 1 to be equipped, and a Woodcutting level of 1 to be used.
Players can make a bronze hatchet with the Smithing skill at level 1 using one Bronze bar, giving the player 12.5 Smithing experience. Players can obtain this hatchet from Bob's Brilliant Axes in Lumbridge for 16 coins or take one for free at the chicken farm by the Lumbridge cow field.
Prior to the random event update, Bronze axes could break from the ent random event, resulting in a broken bronze axe.
A free spawn is located in Fred the Farmer's house in Lumbridge.
Combat styles
Shop locations

Bronze •

Iron •

Steel •

Black •

Mithril •

Adamant •

Rune •

Dragon
Melee weapons

 Dagger •  Axe •  Mace •  Claws •  Sword •  Longsword •  Scimitar •  Spear •  Warhammer •  Battleaxe •  Two-hander •  Halberd •  Hasta •  Pickaxe

Ranged weapons/ammo

 Crossbow •  Bolts •  Arrows •  Brutal arrows •  Throwing axe •  Throwing knife •  Javelin •  Darts

Armour

 Medium helm •  Full helm (t) (g) •  Chainbody •  Platebody (t) (g) •  Gloves •  Square shield •  Kiteshield (t) (g) •  Platelegs (t) (g) •  Plateskirt (t) (g) •  Boots •  Defender

Other

 Bar •  Copper ore •  Tin ore •  Wire •  Nails •  Javelin heads •  Arrowtips •  Dart tips •  Unfinished bolts •  Broken axe •  Broken pickaxe
Community content is available under
CC-BY-SA
unless otherwise noted.