Raise a Floppa - The Loop
Play Sound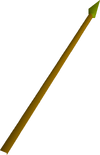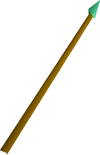 The bronze spear is a two-handed melee weapon made from bronze and is the weakest spear in Old School RuneScape. Bronze spears are a members only weapon.
Bronze spears are obtained by purchasing one from another player or receiving it as a monster drop. Monsters that drop it include Dagannoths (lighthouse), Minotaurs, Goblins, and Hobgoblins.
There is also a bronze spear spawn in the Haunted Mine on the second level near other assorted bronze equipment. Normal bronze spears are not sold in shops, but a (kp) version can be bought from Tamayu after finishing the Tai Bwo Wannai Trio quest. Using the Smithing skill, players can create bronze spears. However, players must have begun Barbarian Smithing training to be able to smith these spears. You can also find one by digging at Level 3 digging spots at the Digsite, with a specimen brush, specimen jar and trowel in your inventory. Bronze spears are one of various items required for Treasure Trails.
Like all spears, the bronze spear can be poisoned. They can also be used to create a scarecrow.
Dropping monsters
Dagger

 Bronze •  Iron •  Bone •  Steel •  Black •  White •  Mithril •  Adamant •  Rune •  Toktz-xil-ek •  Dragon •  Abyssal

Sword

 Training •  Wooden •  Bronze •  Iron •  Steel •  Black •  White •  Mithril •  Adamant •  Rune •  Rapier •  Leaf-bladed •  Toktz-xil-ak •  Dragon •  Ghrazi rapier

Spear

 Bronze •  Iron •  Bone •  Steel •  Black •  Mithril •  Adamant •  Rune •  Gilded •  Leaf-bladed •  Dragon •  Guthan's •  Zamorakian •  Vesta's

Hasta

 Bronze •  Iron •  Steel •  Mithril •  Adamant •  Rune •  Gilded •  Zamorakian

Other

 Egg whisk •  Spork •  Kitchen knife •  Wolfbane •  Keris •  Dark •  Glowing
Melee weapons

 Dagger •  Axe •  Mace •  Claws •  Sword •  Longsword •  Scimitar •  Spear •  Warhammer •  Battleaxe •  Two-hander •  Halberd •  Hasta •  Pickaxe

Ranged weapons/ammo

 Crossbow •  Bolts •  Arrows •  Brutal arrows •  Throwing axe •  Throwing knife •  Javelin •  Darts

Armour

 Medium helm •  Full helm (t) (g) •  Chainbody •  Platebody (t) (g) •  Gloves •  Square shield •  Kiteshield (t) (g) •  Platelegs (t) (g) •  Plateskirt (t) (g) •  Boots •  Defender

Other

 Bar •  Copper ore •  Tin ore •  Wire •  Nails •  Javelin heads •  Arrowtips •  Dart tips •  Unfinished bolts •  Broken axe •  Broken pickaxe