Raise a Floppa - The Loop
Play Sound
A Broodoo shield is a special member's only shield. It can be created with 35 Crafting by using a hammer with a tribal mask with two snakeskins and eight nails in your inventory, granting 100 Crafting experience. The colour of the mask from which it was made determines the colour of the shield. All broodoo shields requires 25 Defence to wear.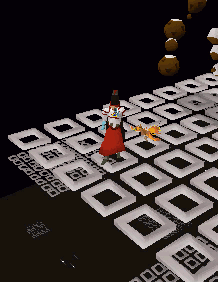 Broodoo shields have a unique passive effect when used in combat, similar to the black mask; it has a 10% chance of draining an opponent's combat stat by 1, and then 5% of their remaining total. The enemy must be in close range, it must still have over half of its hitpoints and its skills must be at the base levels for them to be affected. There are 3 types of broodoo shields:
The number following the name of the Broodoo shield represents the number of charges left on the shield, starting at 10. Every time the passive effect is used, this amount will decrease by one. There is no way to recharge the shield after the charges have been depleted, but it does not affect the shield or its stats once they are all used.
Hats

 Void (+0) •  Elemental (+0) •  Mind (+0) •  Wizard(t)(g) (+2) •  Wizard(t)(g) (+2) •  Skeletal (+2) •  Xerician (+3) •  Gnome (+3) •  Canifis (+3) •  Fremennik (+3) •  Splitbark (+3) •  Ghostly (+3) •  Lunar (+3) •  Slayer helmet (i) (+3) •  Mystic (+4) •  Enchanted (+4) •  Darkness (+4) •  Mitre (+4) •  Elder (+5) •  Infinity (+6) •  Ahrim's (+6) •  Farseer (+6) •  Healer (+6)•  Third age (+8)•  Ancestral (+8) •  Zuriel's (+8)

Robe tops

 Void (+0) •  Zamorak (+2) •  Wizard (t)(g) (+3) •  Black(t)(g) (+3) •  Vestment (+4) •  Ghostly (+5) •  Skeletal (+8) •  Elder (+10) •  Splitbark (+10) •  Lunar (+10) •  Xerician (+12) •  Mystic (+20) •  Enchanted (+20) •  Darkness (+20) •  Infinity (+22) •  Third age (+24) •  Ahrim's (+30) •  Ancestral (+35) •  Zuriel's (+35)

Robe legs

 Void (+0) •  Blue(t)(g)(+0) •  Black (t)(g) (+0) •  Zamorak (+2) •  Ghostly (+4) •  Vestment (+4) •  Skeletal (+6) •  Elder (+6) •  Splitbark (+7) •  Lunar (+7) •  Xerician (+8) •  Mystic (+15) •  Enchanted (+15)•  Darkness (+15) •  Infinity (+17) •  Third age (+19) •  Ahrim's (+22) •  Ancestral (+26) •  Zuriel's (+25)

Gloves

 Void (+0) •  Skeletal (+0) •  Hardleather (+1) •  Bronze (+1) •  Splitbark (+2) •  Ghostly (+2) •  Iron (+2) •  Steel (+2) •  Mystic (+3) •  Darkness (+3) •  Combat bracelet (+3) •  Regen bracelet (+3) •  Black (+3) •  Mithril (+3) •  Lunar (+4) •  Adamant (+4) •  Rune (+4) •  Infinity (+5) •  Dragon (+5) •  Barrows (+6) •  Tormented bracelet (+10)

Boots

 Skeletal (+0) •  Splitbark (+2) •  Ghostly (+2) •  Lunar (+2) •  Mystic (+3) •  Darkness (+3) •  Wizard (+4) •  Infinity (+5) •  Eternal (+8)

Capes

 Vestment cloak (+1) • Fire cape (+1) • Infernal cape (+1) •  Ardougne cloak 1 (+2) •  Ardougne cloak 2 (+4) •  Ghostly cloak (+5) •  Ardougne cloak 3 (+5) •  Ardougne cloak 4 (+6) •  God capes (+10) •  Imbued god capes (+15)

Amulets

 Stole (+2) •  Accuracy (+4) •  Power (+6) •  Magic (t) (+10) •  Glory (t) (+10) •  Fury (or) (+10) •  Occult(or) (+12) •  Third age (+15)

Rings

Shields

 Broodoo shield (+3) •  Book of balance (+4) •  Unholy book (+8) •  Tome of fire (+8) •  Book of darkness (+10) •  Malediction ward (+12) •  Ancient wyvern shield (+15) •  Mage's book (+15) •  Arcane spirit shield (+20)
God books

 Balance (+5) •  Holy (+5) •  Unholy (+5) •  Law (+5) •  Darkness (+5) •  War (+5)

Amulets

 Amulet of power (+1) •  Necklace of anguish (+2) •  Amulet of torture (+2) •  Amulet of glory (+3) •  Salve amulet (e) (i) (ei) (+3) •  Amulet of the damned (+3) •  Amulet of fury (+5) •  Holy symbol (+8) •  Unholy symbol (+8) •  God stole (+10) •  Dragonbone necklace (+12)

Robes

 Priest gown (+6) •  Zamorak monk robes (+6) •  Druid's robes (+8) •  Shade robes (+9) •  Monk's robes (+11) •  Vestment robes (Top & Bottom: +11, whole set: +32)

Capes

 Ardougne cloak 1 (+2) •  Fire cape (+2) •  Vestment cloak (+3) •  Skillcape (trimmed) (+4) •  Ardougne cloak 2 (+4) •  Ardougne cloak 3 (+5) •  3rd age cloak (+5) •  Ardougne cloak 4 (+6)

Weapons

 Maces •  White equipment •  Armadyl crossbow (+1) •  Saradomin sword (+2) •  Zamorakian spear (+2) •  Silver sickle (b) (+5) •  Toktz-mej-tal (+5) •  Wolfbane (+5) •  Crozier (+6) •  Void knight mace (+6) •  Godswords (+8)

Shields

 White equipment •  Falador shield 1 (+1) •  Spirit shield (+1) •  Falador shield 2 (+2) •  Blessed spirit shield (+3) •  Arcane spirit shield (+3) •  Elysian spirit shield (+3) •  Spectral spirit shield (+3) •  Falador shield 3 (+4) •  Falador shield 4 (+5) •  Broodoo shield (+5)

Armour

 White equipment •  Armadyl (+3) •  Bandos (+3) •  Helm of neitiznot (+3) •  Blessed d'hide (+4) •  Mitre (+5) •  Elite void robes (+6) •  Justiciar (+10) •  Initiate (+14) •  Proselyte (+17) •  Verac's (+18)

Rings

 Explorer's rings (+1) •  Ring of suffering (+2) •  Ring of the gods (+4) •  Ring of suffering (i) (+4) •  Ring of the gods (i) (+8)

God blessings

 Holy (+1) •  Unholy (+1) •  Peaceful (+1) •  Honourable (+1) •  War (+1) •  Ancient (+1)
NPCs

Murcaily • Gabooty • Safta Doc • Fanellaman • Jagbakoba • Karaday • Layleen • Mamma Bufetta • Rionasta • Sharimika

Enemies

Broodoo victim • Tribesman • Bush snake • Large mosquito • Mosquito swarm • Jungle spider

Items

Gameplay Items

| | |
| --- | --- |
| Machetes | |
| Thatch spar |  Light •  Medium •  Dense •  Skewer stick |

Loot

Tribal masks   
Broodoo shields

 Trading sticks •  Gout tuber • Gems •  Proboscis •  Snake hide •  Spider carcass •  Spider on shaft •  Spider on stick

Other

Light Jungle • Medium Jungle • Dense Jungle • Hardwood Grove • Gabooty's Tai Bwo Wannai Cooperative • Gabooty's Tai Bwo Wannai Drinky Store