Brutal green dragons are found in the Ancient Cavern, and are a much stronger relative to the green dragons in the Wilderness. Access to the brutal green dragons requires sufficient levels in Barbarian Training. The brutal green dragons use a rudimentary Magic attack and a Melee attack both with a max hit of 18. They are immune to poison. The Brutal Green Dragon can be part of a Slayer assignment.
Combat strategy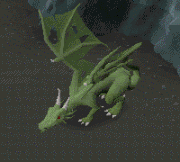 For its combat level, brutal green dragons are fairly weak against Ranged. The dragon can be effectively fought using crossbow ranging, the Protect from Magic prayer and sufficient firebreath protection (e.g. Anti-dragon shield, Antifire potion). Bring prayer potions, antifire potions and ranging potions. The dragons will use Melee if an opponent walks close to them. They do not move to attack with Melee as they rely on their Magic attack and firebreath attack to inflict their significant damage.
Habitat
The brutal green dragons dominate the lower level of the Ancient Cavern.
Drops
100% Drop
Weapons
Armour
Projectiles and Runes
Herbs
Other
Rare drop table
In addition to the drops above, this monster also has access to the rare drop table.
Trivia
Prior to 19 May 2016, Brutal green dragons were the only chromatic dragons unable to drop ensouled dragon heads.
Chromatic dragons

 Green (baby) (brutal) •  Blue (baby) (brutal) •  Red (baby) (brutal) •  Black (baby) (brutal)

Metal dragons
Slayer monsters

 Long-tailed Wyvern •  Spitting Wyvern •  Taloned Wyvern •  Skeletal Wyvern •  Brutal black •  Ancient Wyvern

Other

Lava •  Reanimated •  Revenant

| | |
| --- | --- |
| Bosses |  Elvarg • King Black Dragon •  Vorkath •  Galvek |
| NPCs | |
| Dragonkin | Dragonkin (A Tail of Two Cats) • Dragonkin (Dragon Slayer II) • Zorgoth |