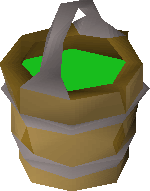 Buckets of slime are filled with a slimy green glowing liquid, found in an underground basement near Port Phasmatys. Necrovarus uses this liquid to control the ghosts of Port Phasmatys, but he is thwarted by the player during Ghosts Ahoy. It apparently has hidden magical properties regarding ghosts and the undead, which is the reason Necrovarus can control the ghosts of Phasmatys and also why he, along with his disciples, are still able to interact with living beings, even after many years of death.
They are used along with bonemeal to worship the Ectofuntus for training Prayer. If bones are ground and used with ectoplasm to worship the Ectofuntus, four times the normal amount of experience for the bones is given; which makes it a useful item that greatly impacts and cheapens training Prayer.
Obtaining Ectoplasm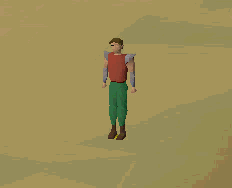 Ectoplasm can be obtained by using a empty bucket on the pool of slime underneath the Ectofuntus.
It is also sold by a Trader Crewmember at any Charter ship location, such as south of the bank in Catherby or in Port Phasmatys. They stock 10, and sell for 2gp ea. Worldhopping and banking here may be faster than using the pool of slime.
Trivia
The ghosts that inhabit Port Phasmatys are actually made of ectoplasm, as are mythical spirits.
NPCs

Velorina • Necrovarus Ghost disciple • Ghost guard • Ghost innkeeper • Metarialus • Ak-Haranu • Robin • Old crone • Old man • Gravingas • Ghost villager • Haricanto • Pirate captain

Enemies

Items

 Ecto-token •  Book of haricanto •  Translation manual •  Ghostspeak amulet (enchanted) •  Model ship •  Chest key •  Signed oak bow •  Bonemeal •  Bucket of slime •  Bedsheet •  Bedsheet (ectoplasm) •  Petition form •  Bone key •  Mystical robes

Tea

 Nettles •  Nettle-water •  Nettle tea •  Nettle tea (milky) •  Cup of tea (nettle) •  Cup of tea (milky nettle) •  Porcelain cup •  Cup of tea (porcelain) •  Cup of tea (milky porcelain)

Treasure map

 Scrap 1 •  Scrap 2 •  Scrap 3 •  Treasure map

Unobtainable

 Puddle of slime

Rewards

 Ectophial

Locations

Music

Related
Misc.

 Bucket •  Water •  Milk •  Apple mush •  Chocolatey milk •  Compost •  Supercompost •  Ultracompost •  Sand •  Sap •  Slime •  Wax •  Bailing •  Sandworms •  Wester sand

Quest items

 Weird gloop •  Full bucket •  Dwarf brew •  Hangover cure •  Rubble •  Magic glue •  Enchanted milk •  Milky mixture •  Ugthanki dung •  Unsanitary swill •  Murky water •  Blessed water •  Water (Rum Deal) •  Empty •  1/5ths full •  2/5ths full •  3/5ths full •  4/5ths full •  Full (Fremennik Trials) •  Frozen •  Bucket (Meiyerditch) •  Water (Meiyerditch)
Community content is available under
CC-BY-SA
unless otherwise noted.