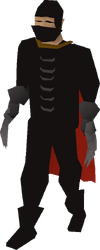 The Burthorpe Imperial Guard is an elite military presence and the personal defence force for Crown Prince Anlaf. As the guards of Burthorpe, they are actively engaged in a war with the mountain trolls of Death Plateau, whom threaten to destroy the small military city and its neighbouring village of Taverley.
The guards can be found drilling and marching constantly in front of Burthorpe Castle. Due to the Prince's political stigma based on Sir Amik Varze's role as acting head of Asgarnia while King Vallance is ill, they are in the process of seceding from the rest of Asgarnia, and as such view the White Knights as enemies, heeding their call only in times of dire need. Additionally, the White Knights have threatened to forcefully assume control over Burthorpe if the Imperial Guard fail to defeat the trolls.
Certain members of the Burthorpe Imperial Guard feature in the Death Plateau and Troll Stronghold quests.
Known members