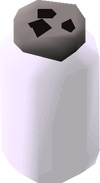 A butterfly jar is used to contain captured butterflies with the Hunter skill. These jars can also be turned into impling jars, providing that you take the steps needed to convert the jar. Butterfly jars cannot be used to hold implings. They can be bought in the only two Hunter shops in RuneScape: one in Yanille, and the other in Nardah or created using 1 charge of a jar generator.
Boss drops

 Dirt •  Sand •  Swamp •  Souls •  Miasma •  Darkness •  Stone •  Decay

Butterfly jars

 Empty •  Ruby harvest •  Sapphire glacialis •  Snowy knight •  Black warlock

Impling jars

 Empty •  Baby •  Young •  Gourmet •  Earth •  Essence •  Eclectic •  Nature •  Magpie •  Ninja •  Dragon •  Lucky

Other

 Bell •  Canopic •  Ethereal fluid •  Honey •  Jam •  Maple syrup •  Specimen •  Sweet herb •  Treacle
Community content is available under
CC-BY-SA
unless otherwise noted.