GTA: The Criminal Enterprises - The Loop
Play Sound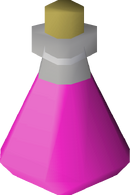 The Cadava potion is a one-dose potion that cannot be made using the Herblore skill. It can only be made by taking Cadava berries to the Apothecary in Varrock. Cadava berries are known to be very poisonous, thus, a potion with Cadava berries can be very dangerous to drink. The potion can only be drunk while in the Apothecary's house and, when drunk, will cause the player to black out for a short amount of time. Drinking this potion will not result in any actual damage to the player, nor will it poison the player.
A Cadava potion is used in the Romeo & Juliet quest. The player would give the Apothecary Cadava berries in order to receive a Cadava potion. The Cadava potion was then used to fake Juliet's death so Romeo could meet her.
Drinking this potion will give the message "Oh dear. You are almost dead" similar to the message you get when dying saying "Oh dear. You are dead."
Unfinished potions

 Coconut milk •  Guam •  Rogue's purse •  Marrentill •  Tarromin •  Ash •  Harralander •  Guthix balance •  Ranarr •  Toadflax •  Magic essence •  Irit •  Ardrigal •  Snakeweed •  Avantoe •  Kwuarm •  Snapdragon •  Cadantine •  Cadantine blood •  Lantadyme •  Antipoison+ •  Dwarf weed •  Weapon poison+ •  Torstol •  Antipoison++ •  Weapon poison++ •  Rejuvenation

Combat potions

 Attack (mix) •  Strength (mix) •  Defence (mix) •  Magic (mix) •  Ranging (mix) •  Combat (mix) •  Super attack (mix) •  Super strength (mix) •  Magic essence (mix) •  Super defence (mix) •  Super combat •  Bastion •  Battlemage •  Antifire (mix) •  Extended antifire (mix) •  Zamorak brew (mix) •  Saradomin brew •  Super antifire (mix) •  Extended super antifire (mix) •  Super ranging •  Super magic •  Overload •  Absorption

Recovery potions

 Stat restore (mix) •  Energy (mix) •  Prayer (mix) •  Super energy (mix) •  Super restore (mix) •  Sanfew serum •  Stamina (mix)

Cures and antipoisons

 Relicym's balm (mix) •  Antipoison (mix) •  Superantipoison (mix) •  Antidote+ (mix) •  Antidote++ •  Sanfew serum •  Anti-venom •  Anti-venom+

Skill potions

Weapon poisons

Others

 Potion •  Blamish oil •  Blood potion (unf) •  Bravery •  Strange •  Magic ogre(incorrect) (correct) (unf) •  Cadava •  Compost •  Growth •  Guthix balance •  Guthix rest •  Murky •  Potion (unf) •  Sealegs •  Shrink-me-quick •  Troll •  Olive oil •  Sacred oil •  Serum 207 •  Serum 208 •  Spectral •  Rejuvenation •  Revitalisation •  Voice
Characters

Romeo • Juliet • Phillipa • Father Lawrence • Draul Leptoc • Apothecary

Items

 Cadava berries •  Cadava potion •  Message

Related