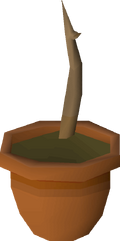 Calquat saplings are obtained by planting a calquat tree seed in a plant pot filled with dirt, then by using a watering can on the plant pot. A player must wait at least one crop cycle in order for a calquat seedling to sprout into a sapling in the plant pot.
A player must have at least level 72 in farming to be able to make this item.
Planting the sapling in the calquat tree patch in the Tai Bwo Wannai Village will result in the chance of growing a calquat tree. To protect the tree from disease, one may pay Imiago 8 poison ivy berries.
Community content is available under
CC-BY-SA
unless otherwise noted.