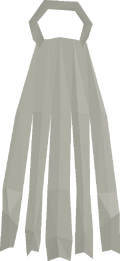 The cape of legends is a cape that can be bought for 675 coins from Siegfried Erkle on the 2nd3rd floor[?] of the Legends' Guild upon completion of the Legends' Quest. If a player loses the cape at least once they can purchase it from Perdu for 1,900 coins.
The cape of legends is a white cape and is sometimes seen as a status symbol as a series of challenging quests must be completed to equip it. There are various NPCs who appear to be wearing the cape or some variation thereof.
Its stats are comparable to an obsidian cape, which has +2 more defence bonuses. However, it should be noted that the cape of legends is far cheaper than the obsidian cape. As a result, it is a popular choice for a cape when PKing or taking part in dangerous activities.
The cape may be mounted in the Quest Hall of a player-owned house in the Guild trophy space. This requires 3 teak planks and grants 300 Construction experience.
Trivia
In Runescape Classic, the cape of legends had golden shoulder pads.
Before 10 February 2005, the grey team cape resembled the cape of legends.
The Archer NPC in search of Zanaris (the "Lost City") at the start location of the quest Lost City is wearing this cape despite Lost City being a requirement for Legends' Quest
Regular capes

 Red •  Black •  Blue •  Yellow •  Green •  Purple •  Orange •  Pink

Combat capes

 Legends • Fire (max) • Infernal (max) •  Moonclan •  Lunar •  Mythical •  Obsidian (r) •  Saradomin (max) •  Saradomin (i) (max) •  Zamorak (max) •  Zamorak (i) (max) •  Guthix (max) •  Guthix (i) (max) •  Team •  Team i •  Team x •  Team zero

Capes of Accomplishment

 Agility •  Attack •  Hitpoints •  Construction •  Cooking •  Crafting •  Defence •  Farming •  Firemaking •  Fishing •  Fletching •  Herblore •  Hunter •  Magic •  Mining •  Prayer •  Ranging •  Runecrafting •  Slayer •  Smithing •  Strength •  Thieving •  Woodcutting •  Quest point •  Achievement diary •  Music •  Max

Cloaks

 3rd age •  Clue hunter •  Ghostly •  H.A.M. •  Mourner •  Saradomin •  Zamorak •  Guthix  Bandos •  Armadyl •  Ancient •  Saradomin team •  Zamorak team •  Ardougne cloak (max)

Fremennik cloaks

 Cyan •  Brown •  Blue •  Green •  Red •  Grey •  Yellow •  Teal •  Purple •  Pink •  Black

Others

 Ava's attractor •  Ava's accumulator (max) •  Ava's assembler (max) •  Bonesack •  Cabbage •  Champion's •  Deadman's •  Diving apparatus •  Eagle •  Explorer backpack •  Spotted •  Spottier
Community content is available under
CC-BY-SA
unless otherwise noted.