The castle sketch 1 is a quest item made during the Darkness of Hallowvale quest. It is made by using a piece of charcoal on a sheet of papyrus while standing on the north side of the castle at the north end of Meiyerditch. The sketch must be given to Safalaan along with castle sketch 2 and castle sketch 3 to complete the intelligence-gathering part of the quest.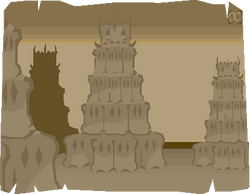 NPCs

Meiyerditch citizen • A Meiyerditch child • Old Man Ral • Drezel • King Roald • Aeonisig Raispher • Sarius Guile

The Myreque

Veliaf Hurtz • Vertida Sefalatis • Safalaan • Mauritys Guile

Enemies

Vyrewatch • Shadowy figure • Vampyre Juvinate • Vanescula Drakan • Ranis Drakan • Vanstrom Klause

Items

 Ladder top •  Message •  Castle sketch 1 •  Castle sketch 2 •  Castle sketch 3 •  Message •  Large ornate key •  Haemalchemy •  Sealed message •  Door key •  Daeyalt ore •  Blood tithe pouch

Citizen outfit
Vyrewatch outfit

Rewards

 Tome of experience

Music

The Last Shanty • Lament of Meiyerditch • Night of the Vampyre

Related
Community content is available under
CC-BY-SA
unless otherwise noted.