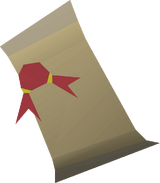 Castle wars tickets are tickets that are awarded for winning or drawing in the Castle Wars minigame. The amount of tickets earned are dependent on whether the player's team wins, loses or ties.
1 ticket is earned if the player's team loses.
2 tickets are earned if both team's scores are tied.
3 tickets are earned for the winning team if the opposing team had 0 points.
Tickets can be spent on items in the Castle Wars Ticket Exchange shop.
Trivia
Tradeable

 Coins •  Archery tickets •  Numulites •  Platinum tokens •  Survival tokens •  Trading sticks

Untradeable

 Agility arena tickets •  Blood money •  Castle wars tickets •  Ecto-tokens •  Frog tokens •  Golden nuggets •  Glistening tears •  Marks of grace •  Mermaid's tears •  Paramaya tickets •  Pieces of eight •  Reward token •  Tokkul •  Unidentified minerals •  Warrior guild tokens

Virtual

Bounty Hunter points • Honour points • Nightmare Zone reward points • Pizazz points • Slayer reward points • Void Knight commendation points
Gameplay items

 Bandages •  Barricade •  Explosive potion •  Climbing rope •  Rock •  Toolkit •  Bronze pickaxe •  Tinderbox

Rewards

 Castle wars ticket

Red decorative
White decorative
Gold decorative
Decorative magic
Decorative ranged
Halos

Others

 Castlewars hood (Saradomin) •  Castlewars hood (Zamorak) •  Castlewars cloak (Saradomin) •  Castlewars cloak (Zamorak) •  Saradomin banner •  Zamorak banner

Other
Community content is available under
CC-BY-SA
unless otherwise noted.