Fire Emblem Warriors: Three Hopes - The Loop
Play Sound
The Chaos Elemental is a dark cloud with six tentacles that dwells in the members-only section of the Wilderness, just west of the Rogue's Castle. This area is moderately easy to access from the deep Wilderness teleport lever in Ardougne or Edgeville. A Wilderness Obelisk can randomly teleport players southeast of the Rogue's Castle.
The Chaos Elemental is sometimes sought after for its Dragon 2h sword, Dragon pickaxe, and Pet chaos elemental drops. In addition, it is immune to venom—any items that are able to inflict venom will inflict regular poison instead.
WARNING: As this boss is located deep within the Wilderness, and wanders around in a multi-combat zone, beware of player-killers! Do not bring items you are not willing to lose.
The Chaos Elemental respawns after 2 minutes and 30 seconds.
Attacks
The Chaos Elemental's primary attack, a projectile attack, is a series of different colours fired at the target. This attack can deal either Magic, Ranged, or Melee damage — it is impossible to distinguish what damage is dealt until the attack hits. The projectiles hit into the 20s, but it is still suggested that players utilise Protect from Magic to reduce the chance of being hit, as the projectile deals magic damage most frequently.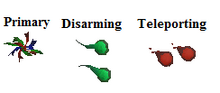 It also has two special attacks. The first one teleports players a short space or several spaces away from it. The second attack unequips items that players are wielding, forcing them to take time to re-equip their armour and weapons before continuing the battle. Its attacks will continue to follow the player until impact and can travel through walls.
However, if a player was to bring food such as curry to the Chaos Elemental, it will not be able to unequip the players items, because when you eat curry, the bowl will remain in the players inventory, giving the Chaos Elemental no room to remove your items.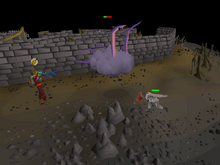 This does, however, give the Chaos Elemental a chance to use a teleportation or offensive attack in turn, so you could leave just a single empty spot in your inventory for the Chaos Elemental to unequip one of your items instead of every single one and so the Chaos Elemental does not focus on offensive spells.
Drops
Weapons and armour
Runes/Ammunition
Herbs
Secondary Drops
Other
Rare drop table
In addition to the drops above, this monster also has access to the rare drop table.
Trivia
Bosses

Callisto • Chaos Elemental • Chaos Fanatic • Crazy archaeologist • King Black Dragon
Scorpia (Offspring)(Guardian) • Venenatis • Vet'ion (Skeleton Hellhound) (Greater Skeleton Hellhound)

Other monsters

Elder Chaos druid • Ent • Green dragon • Lava dragon • Mammoth • Revenant • Runite Golem

Rewards

Shields

 Malediction ward(or) • (Shard 1) • (Shard 2) • (Shard 3)
 Odium ward(or) • (Shard 1) • (Shard 2) • (Shard 3)

Rings

 Ring of the gods (imbued) •  Treasonous ring (imbued) •  Tyrannical ring (imbued)

Boss pets

 Prince black dragon •  Pet chaos elemental •  Callisto cub
 Venenatis spiderling •  Vet'ion jr. •  Scorpia's offspring

Other

 Fedora •  Dragon pickaxe •  Amulet of eternal glory •  Wilderness Rogues' Chests •  Ancient crystal •  Ancient artefacts •  Mysterious emblem