The Chaos Fanatic is an insane mage that resides west of the Lava Maze. He is surrounded by unattackable Miniature chaotic clouds, which serve as scenery. He drops one of three shards required to forge Odium wards and Malediction wards. He has a special attack where he uses a green magical attack that explodes and can deal high damage, similar to the Crazy Archaeologist's explosive book attack.
Players must run away from them to avoid damage.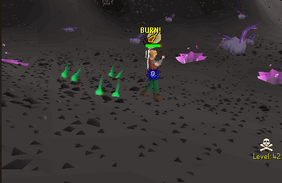 He is also able to disarm players, much like how the Chaos Elemental does. He is also one of the only monsters (including mummies, Vet'ion and the thermonuclear smoke devil) to drop the ancient staff.
Getting there
The fastest way to get there is by casting Ghorrock Teleport or using its magic tablet equivalent. Alternatively, a burning amulet can teleport players to the entrance of the Lava Maze; run west from there. Alternately for players with the hard wilderness diary complete and a POH obelisk, you can select level 44 wilderness teleport.
Quotes
One quote is said every time the Chaos Fanatic attacks the player.
"Burn!"
"WEUGH!"
"Devilish Oxen Roll!"
"All your wilderness are belong to them!"
"AhehHeheuhHhahueHuUEehEahAH"
"I shall call him squidgy and he shall be my squidgy!"
Drops
100%
Weapons/Armour
Runes
Herbs
Food/Potions
Other
Rare drop table
In addition to the drops above, this monster also has access to the rare drop table.
Trivia
The Chaos Fanatic's animation (apart from attacking) is similar to Dr Harlow before he is sober.
The Chaos Fanatic's quote, "I shall call him squidgy and he shall be my squidgy!" Is a reference to the Disney movie Finding Nemo.
The Chaos Fanatic's quote, "All your wilderness are belong to them!" is a reference to a popular catchphrase in the early 2000's, "All your base are belong to us," which originated in the 1989 game Zero Wing and made it into many games in some form, including Warcraft III, Civilization III, Halo, Guild Wars, Neopets, Rome: Total War, Age of Empires, Empire Earth, and Tony Hawk's Pro Skater 2.
Bosses

Callisto • Chaos Elemental • Chaos Fanatic • Crazy archaeologist • King Black Dragon
Scorpia (Offspring)(Guardian) • Venenatis • Vet'ion (Skeleton Hellhound) (Greater Skeleton Hellhound)

Other monsters

Elder Chaos druid • Ent • Green dragon • Lava dragon • Mammoth • Revenant • Runite Golem

Rewards

Shields

 Malediction ward(or) • (Shard 1) • (Shard 2) • (Shard 3)
 Odium ward(or) • (Shard 1) • (Shard 2) • (Shard 3)

Rings

 Ring of the gods (imbued) •  Treasonous ring (imbued) •  Tyrannical ring (imbued)

Boss pets

 Prince black dragon •  Pet chaos elemental •  Callisto cub
 Venenatis spiderling •  Vet'ion jr. •  Scorpia's offspring

Other

 Fedora •  Dragon pickaxe •  Amulet of eternal glory •  Wilderness Rogues' Chests •  Ancient crystal •  Ancient artefacts •  Mysterious emblem
Community content is available under
CC-BY-SA
unless otherwise noted.