For a list of all items and upgrades within the Construction skill, see Construction/All milestones.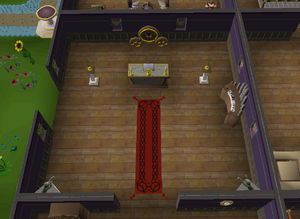 The Chapel in a player-owned house is a room where the player can recharge Prayer and receive extra Prayer experience for bones.
This room can be created with 45 Construction and 50,000 coins.
There are 7 different hotspots available:
Altar - Provides more experience for Prayer when bones are offered. Also recharges Prayer, as a normal altar would.
Lamp - Torches and candlesticks are strictly decorative. Incense burners are lit individually. Each lit burner boosts prayer experience by 50% on top of the altar's experience bonus when offering bones. All 3 kinds of incense burners give the same prayer bonus.
Musical - Instruments that can be played.
Statue - Statues of the player's chosen deity.
Window - Higher quality windows provide a window pattern of the player's chosen deity.
Rug - Decoration
Altar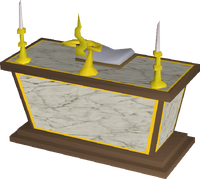 Note: Despite the possible 350% of a normal burial the Gilded altar still is behind the Ectofuntus, which gives 400%. The Gilded altar gives more exp/hr and the Ectofuntus gives more exp/gp.
Lamps
Note: Both burners are built at once. Therefore, you only need the materials listed in the table once, not twice.
It should be noted that players only receive bonus experience when the burners are lit. If only one burner is lit you receive only 300% boost, rather than 350% for both. To light the burners, players need a clean marrentill for each burner.
Icons
Note: It is worth noting that the icon you use can affect the way some of the furniture looks in your chapel. For example, if you have a Guthix icon, The windows may have the Guthix symbol on them. Or if you have a Zamorak icon, the two statues would be of Zamorak along with the symbol on your altar. Nothing else in the house is affected by this change.
This works for both icons and symbols. However, aligning the altar to Bob the cat does NOT change the alignment of the altar, and the altar will remain aligned to Saradomin.
Musical
Statues
Windows
Rugs

 Garden •

 Parlour •

 Kitchen •

 Dining Room •

 Workshop •

 Bedroom •

 Skill Hall •

 Games room •

 Combat Room •
 Quest Hall •

 Menagerie •

 Study •

 Costume Room •

 Chapel •

 Portal Chamber •

 Formal Garden •

 Throne Room •

 Oubliette •

 Superior Garden •

 Dungeon •

 Treasure Room •
 Achievement Gallery
Altars
Lamps

 Steel torches •  Wooden torches •  Steel candlesticks •  Gold candlesticks •  Oak burners •  Mahogany burners •  Marble burners

Icons

 Guthix symbol •  Saradomin symbol •  Zamorak symbol •  Guthix icon •  Saradomin icon •  Zamorak icon •  Icon of Bob

Musical

 Windchimes •  Bells •  Organ

Statues
Windows
Rugs
Community content is available under
CC-BY-SA
unless otherwise noted.