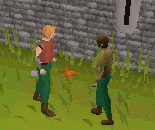 Christmas crackers are trade-able holiday items that can be obtained by completing one of the Christmas holiday events that occur once per year. This also rewards the player with all other holiday items associated with Christmas.
Previously, they were obtained by using the clues given by Jagex through various means (forums, Twitter, etc) and giving a specific set of items to an NPC. This event started on 1 September 2013 and lasted until 7 September, with one clue being shown every day. Players could only receive a Christmas cracker for the clue given that day. If a player participated for all 7 days, they would have gotten 7 crackers. If a player tried to do a clue from a previous day, the specified NPC would not accept the items.
Crackers can be pulled by using them on another player. It's important to note that the owner of the cracker is not guaranteed to be the one to obtain the items. If an Iron Man attempts to open a cracker it will display the message "You are an Iron Man. You stand alone."
Loot
Held within the cracker is a partyhat and one other item or a stack of items, such as some coins, runes, or weapons. To open it, it must be used with another player. Upon opening, the player who had the cracker and the player it was used on each have a 50/50 chance to receive a randomly coloured party hat, while the other player gets the other item.
This means that the average profit in GE terms for pulling a Christmas cracker is -8,917 based on Grand Exchange prices.
The chances below are calculated using a sample size of 1337 crackers.
Birthday

 War ship •  Gnome child hat •  4th birthday hat •  Birthday balloons •  Prop sword

Easter

 Easter egg •  Rubber chicken •  Easter ring •  Easter basket

Midsummer

 Disk of returning •  Half full wine jug •  Druidic wreath •  Mask of balance •  Hornwood helm •  Hand fan

Hallowe'en

 Pumpkin •  Scythe •  Zombie head •  Jack lantern mask •  Grim reaper hood •  Anti-panties •  Hunting knife •  Jonas mask

Christmas

 Christmas cracker •  Yo-yo •  Wintumber tree •  Reindeer hat •  Snow globe •  Sack of presents •  Giant present

Partyhats

 Yellow •  Green •  Red •  White •  Purple •  Blue •  Black •  Rainbow

Santa hats

 Regular •  Black •  Inverted •  Wise Old Man's

Marionettes

Santa outfit

 Mask •  Jacket •  Pantaloons •  Gloves •  Boots

Antisanta outfit

 Mask •  Jacket •  Pantaloons •  Gloves •  Boots

Snow imp costume

Hats and Scarves

| | |
| --- | --- |
| Hats |  Bobble •  Jester •  Tri-jester •  Woolly |
| Scarves |  Bobble •  Jester •  Tri-jester •  Woolly |

Miscellaneous

 Cabbage cape •  Cruciferous codex •  Rainbow scarf •  Runefest shield

| | |
| --- | --- |
| Cat toys |  Tiger •  Lion •  Snow leopard •  Amur leopard |
| Clue hunter outfit | |