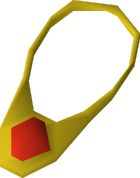 Clean necklaces are obtained by cleaning uncleaned finds in the Varrock Museum which requires completion of the Digsite Quest. It is obtained at a rate of 1/51.[1]
After finding it, players must then talk to one of the archaeologists cleaning finds in the museum. They will teach the player how to enchant a ruby necklace to make a Digsite pendant, and they will then remove the clean necklace from the player's inventory. The necklace may be worn, although it has the same appearance as a ruby necklace.
It cannot be obtained again once it has been given to an archaeologist.
References
Crafted

 Gold •  Opal •  Sapphire •  Jade •  Emerald •  Topaz •  Ruby •  Diamond  Dragonstone •  Onyx •  Zenyte

Enchanted

 Dodgy •  Games •  Passage •  Binding •  Faith •  Digsite •  Phoenix •  Skills •  Berserker •  Anguish (or)

Other

 Brass •  Clean •  Occult (or) •  'perfect' •  Silver •  Stolen family heirloom
 Uncleaned find

Finds

| | |
| --- | --- |
| Useless finds | |
| Useful finds |  Big bones •  Bones •  Broken arrow •  Clean necklace •  Coins •  Iron dagger •  Uncut jade •  Uncut opal |
| Displayed finds |  Pottery (case 22) •  Old symbol (case 36) •  Ancient symbol (case 37) •  Ancient coin (case 44) •  Old coin (case 45) |

Rewards

| | |
| --- | --- |
| Weapons | |
| Weapon components | |
| Ores |  Copper ore •  Tin ore •  Coal •  Mithril ore |
| Other |  Antique lamp •  Big bones •  Bones •  Bowl •  Pot •  Uncut jade •  Uncut opal |