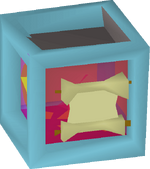 The clue box is an item that can protect a player's clue scroll or reward casket within the Wilderness. If a player dies in the Wilderness with a clue scroll while having the clue box in their inventory, the clue box will be destroyed, but the clue scroll will be protected. The protected clue scroll does not take the place of one of your 3 items kept on death, or 4 with the protect item prayer, so it is possible to keep a total of 5 items on death if you have a clue scroll and clue scroll box in your inventory upon death. It should be noted that even with the clue box the items protected on death screen will still show that the clue will be lost.
It can be purchased at the Bounty Hunter Store for 100,000 points.
It should also be noted that, the clue box will also protect the reward casket. So it is advised to not open the reward casket before leaving the wilderness if you want to protect your reward.
To clarify: You just have to bring the Clue box with you.
Bounty Hunter

Rewards

Weapons

 Dragon scimitar •  Dragon longsword •  Dragon dagger •  Dragon battleaxe •  Dragon mace •  Dragon halberd •  Bolt rack •  Rune arrows •  Adamant arrows •  Crystal seed

Armour

 Helm of neitiznot •  Berserker helm •  Warrior helm •  Archer helm •  Farseer helm •  Mystic robe top •  Mystic robe bottom •  Mystic hat •  Mystic gloves •  Mystic boots •  Rune platebody •  Rune platelegs •  Rune plateskirt •  Climbing boots

Magic tablets

 Paddewwa •  Senntisten •  Annakarl •  Carrallangar •  Dareeyak •  Ghorrock •  Kharyrll •  Lassar

Cosmetic upgrades

| | |
| --- | --- |
| Cosmetic upgrade kits |  Green dark bow paint •  Yellow dark bow paint •  White dark bow paint •  Blue dark bow paint •  Frozen whip mix • Volcanic whip mix •  Steam staff upgrade kit •  Lava staff upgrade kit •  Dragon pickaxe upgrade kit •  Ward upgrade kit •  Granite clamp |
| Ornamented items |  Frozen abyssal whip • Volcanic abyssal whip •  Steam battlestaff •  Lava battlestaff •  Dragon pickaxe •  Odium ward •  Malediction ward •  Granite maul |

Miscellaneous

 Ring of wealth scroll •  Magic shortbow scroll •  Saradomin's tear •  Saradomin's blessed sword •  Rune pouch •  Looting bag •  Clue box •  Bounty teleport scroll •  Hunter's honour •  Rogue's revenge
Community content is available under
CC-BY-SA
unless otherwise noted.