This article is about the slayer monster. For the superior variant, see
Cockathrice
.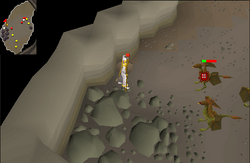 Cockatrice are Slayer monsters that require level 25 Slayer to kill. A mirror shield is required to defend against their piercing gaze, or else they will reduce your combat stats every hit, even while safe-spotting. As 20 Defence is needed to be able to wield a mirror shield, players who do not meet this requirement will not be assigned them as a task. It's worthy to note that their strength lies purely in their piercing gaze ability; with a mirror shield equipped, do not expect much of a fight. As such, not a lot of resources are necessary to hunt this monster.
They are commonly killed because they have a relatively high drop rate of medium clue scrolls, and are often killed during Slayer tasks. They may also rarely drop the mystic boots (light).
Locations
Drops
100% drop
Weapons/Armour
Runes
Herbs
Seeds
Other
Gem drop table
In addition to the drops above, this monster has access to the gem drop table.
Slayer Tower

 Crawling Hand •  Banshee •  Infernal Mage •  Bloodveld •  Aberrant spectre •  Gargoyle (Boss • Dusk • Dawn) •  Nechryael •  Abyssal demon (Boss)

Fremennik Slayer Dungeon

 Cave crawler •  Rockslug •  Cockatrice •  Pyrefiend •  Basilisk •  Jelly •  Turoth •  Kurask

Lumbridge Swamp Caves
God Wars Dungeon (Wilderness)

 Pyrefiend •  Bloodveld •  Spiritual ranger •  Spiritual warrior •  Spiritual mage

Stronghold Slayer Cave
Catacombs of Kourend

 Twisted Banshee •  Warped Jelly •  Mutated Bloodveld •  Deviant spectre •  Brutal black dragon •  Greater Nechryael •  Abyssal demon •  Dark beast

Wyvern Cave

 Long-tailed Wyvern •  Spitting Wyvern •  Taloned Wyvern •  Ancient Wyvern

Others

 Desert Lizard •  Mogre •  Harpie Bug Swarm •  Killerwatt •  Molanisk •  Terror dog •  Sea snake (Young) (Hatchling) •  Brine rat •  Fever spider •  Mutated Zygomite (Ancient) •  Cave horror •  Dust devil •  Skeletal Wyvern •  Cave kraken (Boss) •  Dark beast •  Cerberus •  Smoke devil (Boss)

| | |
| --- | --- |
| Superior monsters |  Crushing hand •  Chasm Crawler •  Screaming banshee (Twisted) •  Giant rockslug •  Cockathrice •  Flaming pyrelord •  Monstrous basilisk •  Malevolent Mage •  Insatiable Bloodveld (Mutated) •  Vitreous Jelly (Warped) •  Cave abomination •  Abhorrent spectre (Repugnant) •  Choke devil •  King kurask •  Marble gargoyle •  Nechryarch •  Greater abyssal demon •  Night beast •  Nuclear smoke devil |
Community content is available under
CC-BY-SA
unless otherwise noted.