For a list of all items and upgrades within the Construction skill, see Construction/All milestones.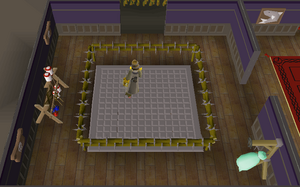 The Combat room is a room in Player-owned house, that can be built with 32 Construction and 25,000 coins.
The main feature of this room is the combat arena, where a player can freely fight anyone within the arena without losing their items. If a player dies in the arena, they are simply teleported out of it to another place in the room.
There are three different types of hotspots that can be built upon:
Rings - Players can have various types of fights here.
Combat dummy - A dummy that players will always hit their max hit on.
Racks - Storage spaces that hold various weapons for the rings.
Decoration - Serves as decoration.
Rings
Combat dummy
Racks
Decoration

 Garden •

 Parlour •

 Kitchen •

 Dining Room •

 Workshop •

 Bedroom •

 Skill Hall •

 Games room •

 Combat Room •
 Quest Hall •

 Menagerie •

 Study •

 Costume Room •

 Chapel •

 Portal Chamber •

 Formal Garden •

 Throne Room •

 Oubliette •

 Superior Garden •

 Dungeon •

 Treasure Room •
 Achievement Gallery
Community content is available under
CC-BY-SA
unless otherwise noted.