Fire Emblem Warriors: Three Hopes - The Loop
Play Sound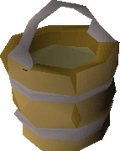 Compost is an item used most commonly with the Farming skill. While not as effective as supercompost, it reduces the chance of a player's crops becoming diseased (1:4 ratio) while growing throughout the plant cycle, as well as increasing the minimum and maximum number of crops that will be received by the player upon harvest.
It can be made by putting weeds, sweetcorn and other farming produce into the compost bin at farming patches. It takes 60 minutes for the bin to make it rot into compost, but when it is finished rotting, the bin fills 15 buckets with compost. Filling a bucket with compost gives 4.5 Farming experience. Applying a bucket of compost to a farming patch gives 18 Farming experience. Multiple compost is used in some plants. Compost can also be bought from farming shops, such as those near the cabbage patch south of Falador, and Alice's Farming Shop north-west of Port Phasmatys.
Three buckets of compost can be used as payment for a farmer to watch over barley seeds as they grow, or two buckets for potato seeds.
Compost is also an ingredient used in creating sulphurous fertiliser, along with saltpetre to gain favour in the house of Hosidius on Great Kourend.
Misc.

 Bucket •  Water •  Milk •  Apple mush •  Chocolatey milk •  Compost •  Supercompost •  Ultracompost •  Sand •  Sap •  Slime •  Wax •  Bailing •  Sandworms •  Wester sand

Quest items

 Weird gloop •  Full bucket •  Dwarf brew •  Hangover cure •  Rubble •  Magic glue •  Enchanted milk •  Milky mixture •  Ugthanki dung •  Unsanitary swill •  Murky water •  Blessed water •  Water (Rum Deal) •  Empty •  1/5ths full •  2/5ths full •  3/5ths full •  4/5ths full •  Full (Fremennik Trials) •  Frozen •  Bucket (Meiyerditch) •  Water (Meiyerditch)
Pies

 Redberry •  Meat •  Mud •  Apple •  Garden •  Fish •  Botanical •  Mushroom •  Admiral •  Wild •  Summer

Raw/uncooked pies

 Redberry •  Meat •  Mud •  Apple •  Garden •  Fish •  Botanical •  Mushroom •  Admiral •  Wild •  Summer

Part pies

 Pie shell •  Mud 1 •  Mud 2 •  Garden 1 •  Garden 2 •  Fish 1 •  Fish 2 •  Admiral 1 •  Admiral 2 •  Wild 1 •  Wild 2 •  Summer 1 •  Summer 2

Ingredients

 Pastry dough •  Redberries •  Cooked meat •  Compost •  Cooking apples •  Tomato •  Onion •  Cabbage •  Trout •  Cod •  Raw potato •  Salmon •  Tuna •  Raw bear meat •  Raw chompy •  Raw rabbit •  Strawberry •  Sulliuscep cap •  Watermelon •  Golovanova fruit top

 Rake •

 Secateurs (Magic) •

 Gardening trowel •
 Seed dibber •
 Watering can (Gricoller's) •

 Compost •
 Supercompost •

 Ultracompost •
 Spade •

 Empty plant pot •

 Filled plant pot •

 Empty sack •

 Basket •

 Plant cure